Romesco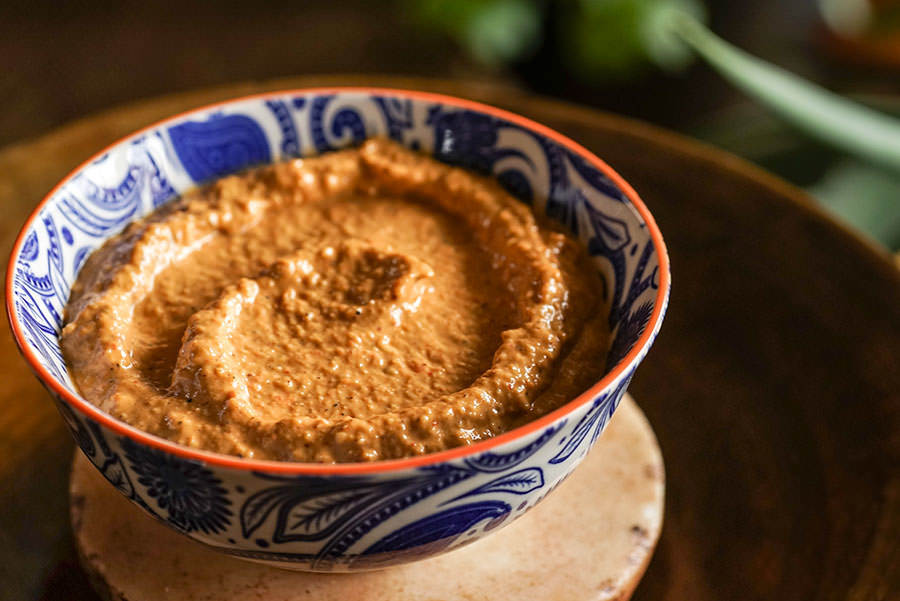 Romesco is a Catalan sauce made with nuts and red pepper. In Spain, it's often served with grilled spring onions; it's also great with grilled vegetables, fish, seafood… in fact, pretty much everything!
We like to make Romesco with almonds and hazelnuts, but you can easily use one or the other.
Ingredients
½ cup almonds or almond butter
½ cup hazelnuts or hazelnut butter
2 medium tomatoes
2 red peppers
4 cloves garlic, skin-on
4 Tbsp sherry vinegar or red wine vinegar
1 tsp Reshampatti pepper or Cayenne, ground
2 tsp smoked paprika
½ cup olive oil
Salt and pepper to taste
Method
1

If using nut butter, skip to step 2. Place almonds and hazelnuts on two baking sheets and roast in an oven heated to 350° F, around 6 to 9 minutes, depending on the size of the nuts. Remove and set aside. If you like, place hazelnuts on a rag and rub them to remove the brown skin.

2

Heat a thick-bottomed pan on medium-high. Place tomatoes, peppers and garlic on the pan. Toast on all side until the skin begins to blacken. Remove vegetables when each is well-cooked (around 5 minutes for the garlic, up to 15 minutes for the tomatoes). Let cool.

3

Remove as much blackened skin from the vegetables as possible when they are cooled.

4

Grind the almonds and hazelnuts in a food processor.

5

Place the vegetables in a food processor and purée. Add vinegar and spices and add oil in a continuous stream until well-incorporated. Taste and adjust with salt and pepper.