Rose, Saffron and Pistachio Ice Cream (no churn)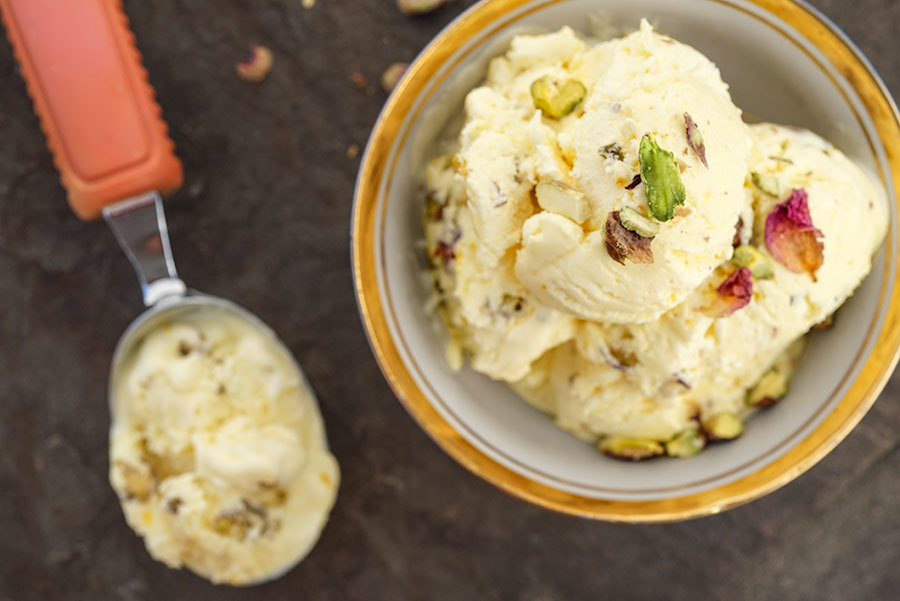 Rose and saffron are often used together in Persian desserts. Since these two heavily aromatic spices can easily overpower a dish, it's important to use them sparingly.
Ingredients
1 generous pinch saffron
1 tsp sugar
1 Tbsp milk or cream
2 cups 35% whipping cream, very cold
1 can (300 ml) sweet condensed milk
2 Tbsp vodka (optional, for a softer ice cream)
1½ tsp rose water
½ cup shelled, toasted pistachios
Method
1

Grind saffron finely with the sugar. Heat the tablespoon of milk or cream and add to the sugar and saffron mixture.

2

Whip the very cold cream until firm peaks form.


3

Incorporate condensed milk to the whipped cream with a whisk until homogeneous.


4

Add vodka, saffron and sugar infusion, and rose water to the cream and stir well. 

5

Incorporate pistachios into the mixture and pour into a 1.5 liter (6 cups) container.

6

Freeze at least 6 hours.

7

For a softer ice cream, remove from freezer at least 15 minutes before serving.