Rujak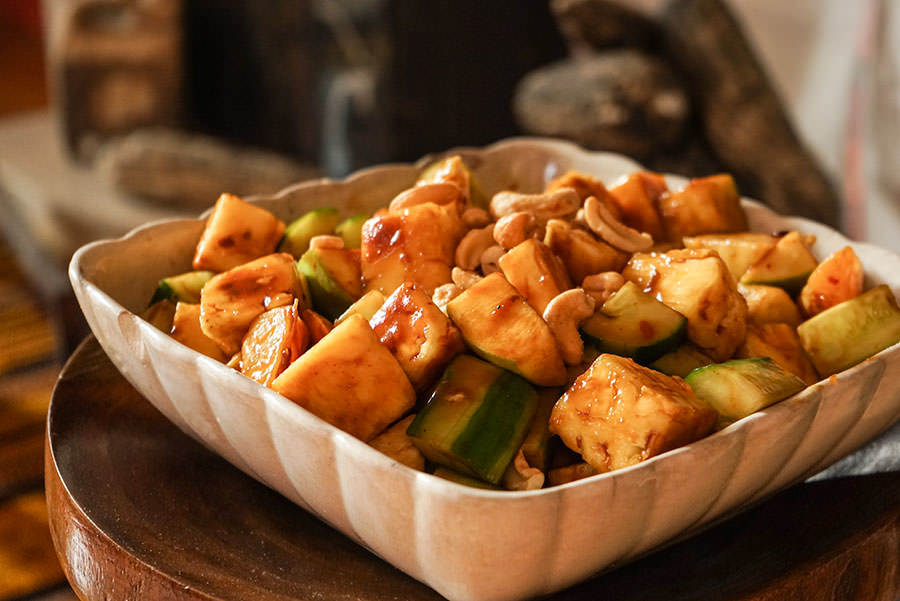 A fruit salad typical of Indonesia, Malaysia and Singapore. It's very nice with crunchy fruit and vegetables like jicama, guava, or Asian pear.
Ingredients
2 Tbsp tamarind
1 large cucumber
1 orange
1 green apple
1 small, firm mango
1 cup pineapple
¼ tsp shrimp paste or 2 tbsp fish sauce
½ tsp salt
Chile, to taste
3 Tbsp palm sugar or maple syrup
½ cup cashews, chopped
Method
1

Soak tamarind in 4 tablespoons of boiling water.

2

Partially peel cucumber then cube. Peel and section orange. Quarter apple, remove core, and chop. Peel and cube mango and pineapple.

3

Place fruit and vegetables in a bowl.

4

Grind chile with salt and shrimp paste in a mortar and incorporate sugar and soaked tamarind. Pour into the bowl.

5

Stir, garnish with cashews and serve immediately.