Saffron and orange blossom sauce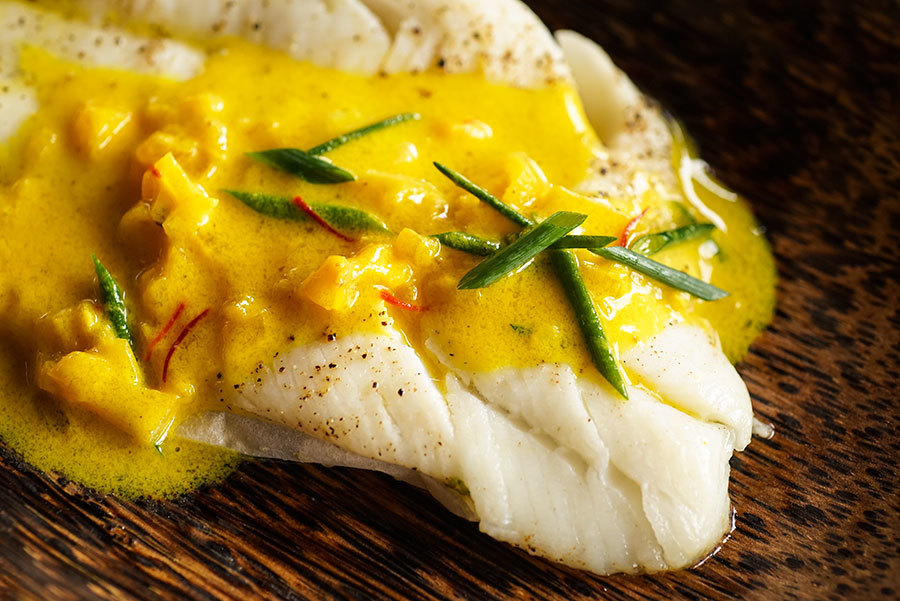 A sauce that's generally served with fish or seafood. If you make mussels, keep a little of the cooking water and use it in this sauce.
Ingredients
¼ g saffron (two generous pinches)
3 Tbsp coconut oil
2 shallots, chopped
½ tsp turmeric, ground
½ tsp fennel, ground
½ tsp long pepper, ground
¼ cup sherry
1 cup fish or chicken stock
1 coconut milk
2 Tbsp creamed coconut
1 Tbsp orange blossom water or ½ tsp orange zest, grated
4 Tbsp chives, chopped, for garnish
Method
1

Place saffron in a small glass and pour 3 tablespoons boiling water on top. Set aside.

2

Pour oil in a pot, add shallots, and heat on medium. Sauté for 2 minutes. Add spices to the pot and cook 1 minute more.

3

Pour in sherry, saffron infusion, and stock. Reduce by half.

4

Add coconut milk. Bring to a boil. Incorporate creamed coconut and simmer 5 minutes more, stirring regularly.

5

Add a little water or coconut milk if the sauce is too thick. Taste and salt if needed. Incorporate orange blossom water and chives just before serving.