Saffron Pumpkin Gnudi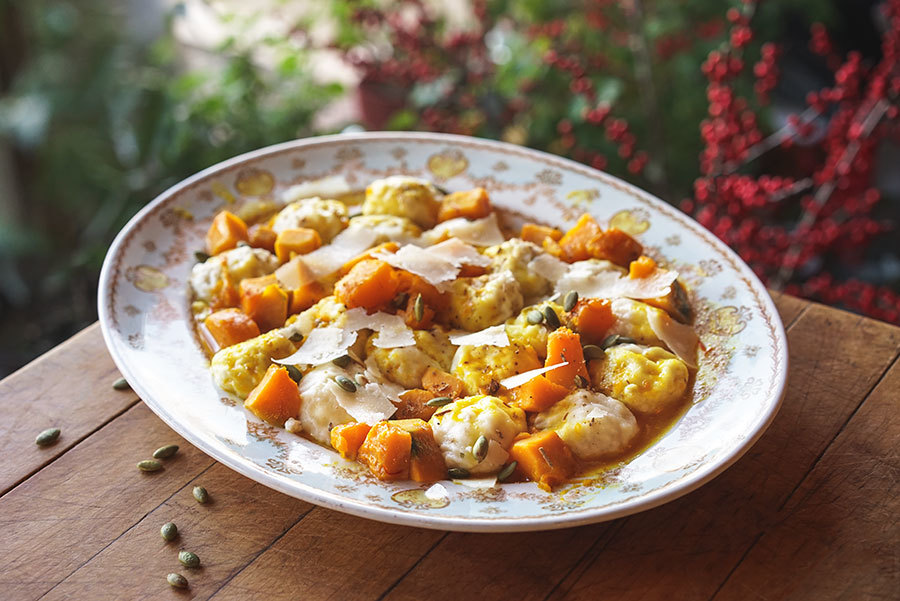 Gnudi resemble gnocchis but are prepared using ricotta instead of potatoes. They are also less dense and creamier and are generally served with a light coat of butter as opposed to a sauce. However, with a hint of spices and saffron this dish is immediately transformed into an offering fit for grand occasions.  
As gnudi are relatively fragile, they demand dexterity and care, the results however, are certainly worth the effort. Should there be any left-over semolina, sift and freeze for another occasion. 
Ingredients
300 gr fresh ricotta
100 gr parmesan, grated
Pepper from mill
¼ tsp nutmeg, freshly grated 
½ lb durum wheat semolina
¼ gr saffron
¼ cup pumpkin seeds 
2 cups firm pumpkin, diced 
6 Tbsp butter 
Salt and pepper to taste
Generous pinch Gingerbread Spices, ground (opt.)
1 3oz block of parmesan
Method
1

Place ricotta in a strainer over a bowl, let drain 30 minutes. Place a cheese cloth at the bottom of the strainer before adding cheese, if necessary.

2

Mix parmesan, pepper and grated nutmeg in a bowl with a fork, then incorporate ricotta.

3

Spread half semolina in a large dish. Make ¾-inch balls with ricotta mix, then roll in semolina. Sprinkle remaining semolina on top. Cover and let rest 24 hours refrigerated.

4

Next day, place saffron in a small glass and pour on 6 Tbsp boiling water. Infuse for 30 minutes.

5

Roast pumpkin seeds in a hot pan, set aside.

6

Peel and cut pumpkin into ¾-inch dice. Place in a casserole and barely cover with water. Salt and pepper, then add butter and infused saffron.

7

Bring to a boil, cover and let simmer on low heat until pumpkin is al dente (6-8 minutes). Set aside.

8

Boil salted water in a large cauldron. Remove gnudi from semolina. Each ball should be covered by a layer of semolina. Cook gnudi 3 to 4 minutes in water. Remove delicately using a strainer then place on a large dish.

9

Cover gnudi with pumpkin and its cooking juice. Garnish with pumpkin seeds and French Gingerbread spices. Fashion parmesan flakes using a peeler and place on dish. Serve immediately.