Cabbage and bacon salad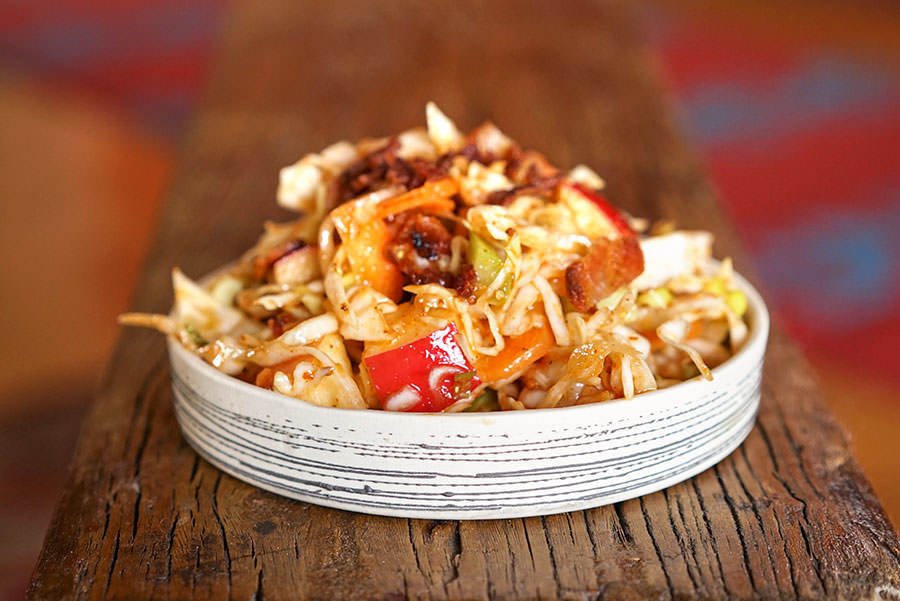 Cajun vinaigrette gives this salad a wonderful punch. Maple vinaigrette is another good choice.
Ingredients
½ green cabbage
1 large carrot
2 tsp sea salt
6 slices bacon
1 clove garlic, grated
1 apple
3 celery stalks
6 scallions, minced
Cajun Vinaigrette
¼ cup wine or cider vinegar
1 Tbsp Cajun Spices, ground
1 Tbsp onion flakes, ground
1 Tbsp smoked paprika
1 Tbsp tomato paste
2 Tbsp whole grain mustard
1 Tbsp honey
3 scallions, minced
½ cup olive oil
Method
1

Place all vinaigrette ingredients, except the oil, in a bowl or jar. Stir and let rest 2-3 minutes to let the vinegar infuse. Add oil and stir well.

2

Wash cabbage and slice finely. Peel carrot and slice finely. Place in a salad bowl. Add salt and massage for about 1 minute to tenderize the vegetables. Let stand 10 minutes, during which time you can prepare the other ingredients.

3

Cook bacon on medium heat until its well-colored. Set aside. Add garlic to the pan, cook 30 seconds and pour, with 2-3 tablespoons of fat, onto the cabbage. Stir.

4

Dice apple and celery large. Add to the bowl with the scallions and some vinaigrette. Stir well.