Cauliflower and Grilled Bell Pepper Salad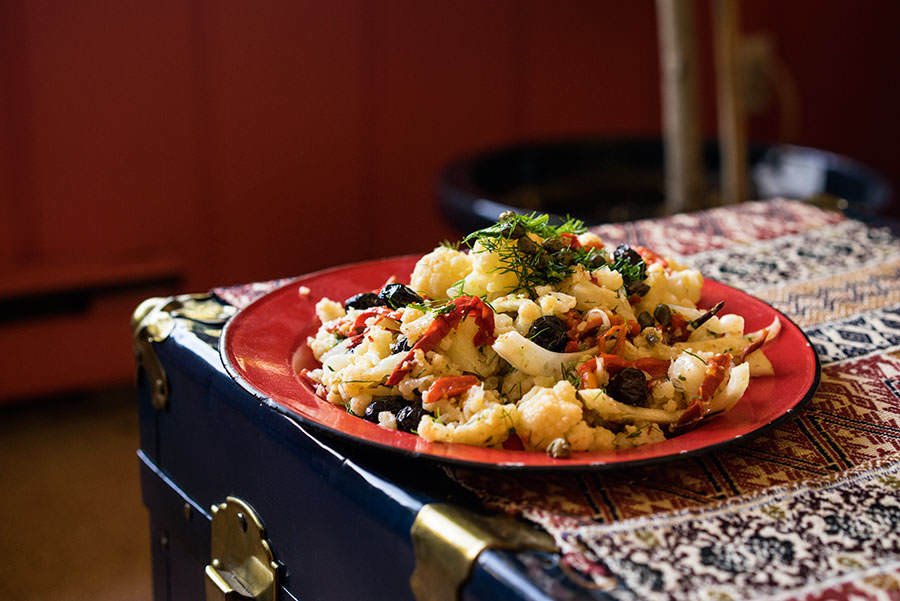 It's very important not to let the cauliflower in water once its cooked. If it air cools, it gets dry and absorbs more dressing than if it soaks in water. If possible, let this salad rest and our before serving.
Ingredients
4 cups cauliflower
2 red peppers
¼ fennel bulb
12 black olives
2 Tbsp capers, drained
Fennel leaves
1 recipe Anchovy Caper Dressing
Method
1

Divide cauliflower into small florets. Cook in salted boiling water for 6-8 minutes until it's still a little crunchy. Drain with a colander and let it air dry, without rinsing with cold water.

2

Halve peppers and remove seeds and placenta. Roast under the heating element of a very hot oven for 8 minutes. Let rest several minutes and peel if desired. Slice into strips and place in a bowl with the cauliflower.

3

Slice fennel into very thin strips. Add to the bowl with the dressing. Mix well while crushing the vegetables with your hands so they absorb the dressing. Garnish with olives, capers, and fennel leaves.