Kale salad with pear and walnuts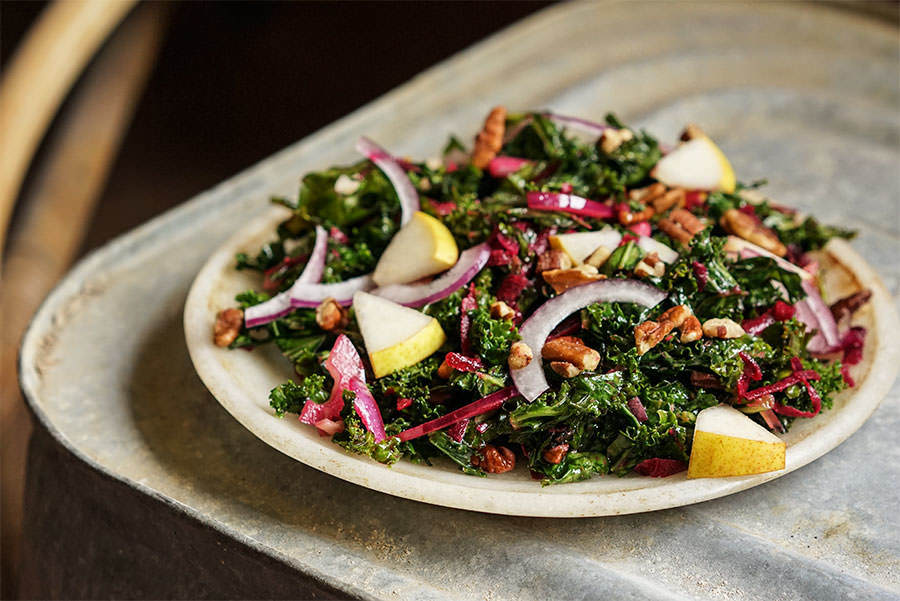 A flavorful combination of kale, pear and nuts. It's great with raw beets, but it's also a good opportunity to use some leftover cooked beets. The Dijon vinaigrette keeps for days in the fridge.
Ingredients
1  bunch kale
1 tsp sea salt
1 pear
1 medium beet, raw or cooked
1 medium red onion
1 cup pecans
Dijon Vinaigrette
2 shallots, chopped
2 Tbsp Dijon mustard
¼ cup wine vinegar or cider vinegar
Salt and pepper to taste
½ tsp tarragon (opt.)
½ cup olive oil
Method
1

Place all vinaigrette ingredients, except the oil, in a bowl or jar. Stir and let rest 2-3 minutes to let the vinegar infuse. Add oil and stir well.


2

Wash and drain kale thoroughly. Remove leaves from stems.

3

Chop leaves into bite-sized pieces. Place in a salad bowl. Add salt and massage for about 1 minute to tenderize the leaves. Let stand 10 minutes, during which time you can prepare the other ingredients.

4

Quarter pear. Remove heart and dice. Peel and grate beet. Slice onion finely. Add to the bowl.

5

Chop ¾ of the nuts and add to the salad. And your desired quantity of dressing and mix well. Garnish with remaining nuts.