Cucumber, carrot and daikon salad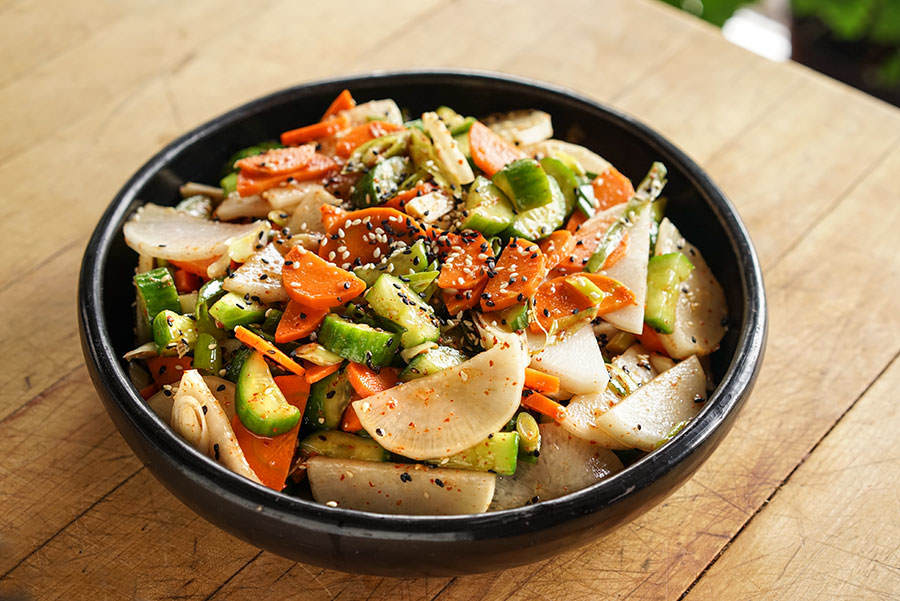 A little salad or condiment that's quick and goes great with meat or grilled fish.
Ingredients
2 medium carrots
1 piece of daikon radish, about 6-inches
1 small English cucumber
1 tsp sea salt
4 Tbsp sesame seeds, toasted
6 scallions, minced
1 clove garlic, chopped
½ cup rice vinegar
3 Tbsp sesame oil
1 Tbsp maple syrup (opt.)
3 tsp Korean pepper or Aleppo pepper
Method
1

Peel carrots and daikon. Slice into ¼-inch rounds. Cube cucumber.

2

Place in a salad bowl. Add salt and massage for about 1 minute to tenderize the vegetables. Let stand 15 minutes. Discard the juice that collects at the bottom of the bowl.

3

Add remaining ingredients and stir well. Let stand at least 10 minutes or longer. This salad lasts a few days in the fridge, and makes a great condiment.