Salmon stuffed with leeks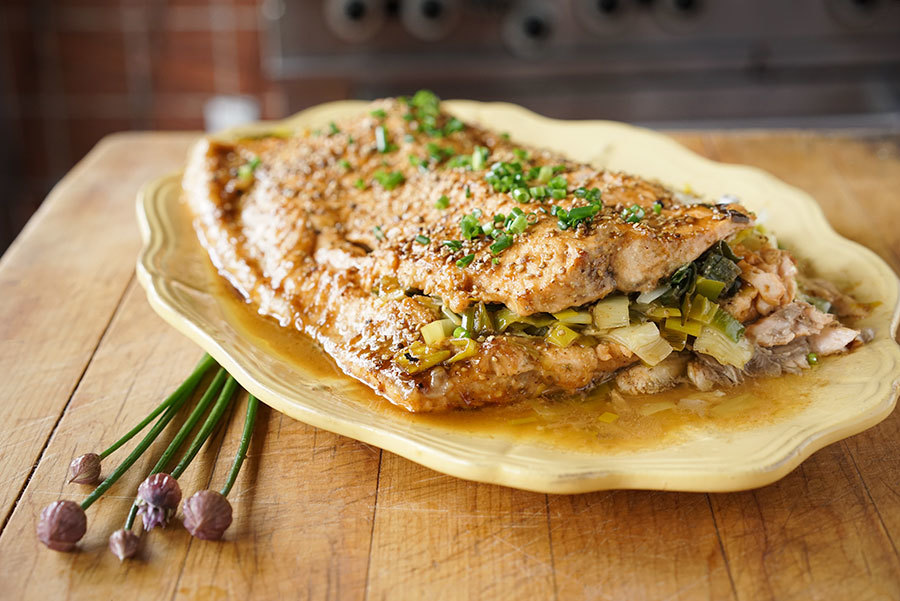 A no-fuss but always delicious dish! If you have only salmon filets on hand, make individual portions and simply reduce the cooking time by a few minutes. 
Ingredients
2 medium leeks  4 Tbsp butter 
1 - 2½ lbs salmon filet
Salt, to taste
2 Tbsp Oyster sauce 
2 Tbsp white wine or lemon juice 
2 Tbsp olive oil 
2 Tbsp white pepper, cracked 
1 Tbsp Maple syrup 
Chives or parsley, to garnish  
Method
1

Heat the oven to 375 °F.

2

Cut leeks in two, lengthwise and wash well. Cut the half leeks into ¼-inch slices.

3

Heat a pan on medium and add the butter. Add the leeks once the butter begins to foam. Salt and cook slowly while stirring for 4 to 5 minutes – allowing them to wilt without browning. Spread on a plate to cool.

4

Meanwhile, line a baking sheet with parchment paper. Place the filets, skin down on the paper. Cut the filet in two, along the thick side, without going all the way to the end so that it can open like a wallet.

5

Mix the remaining ingredients, except the chives, in a bowl.

6

Brush two thirds of the marinade into the open filet. Stuff with the leeks then close.

7

Brush the remaining marinade preparation on the fish.

8

Cook in the oven for fifteen minutes until the skin flakes easily with a fork.

9

Garnish with chives and serve immediately.