Salmon tail and mixed vegetable en cocotte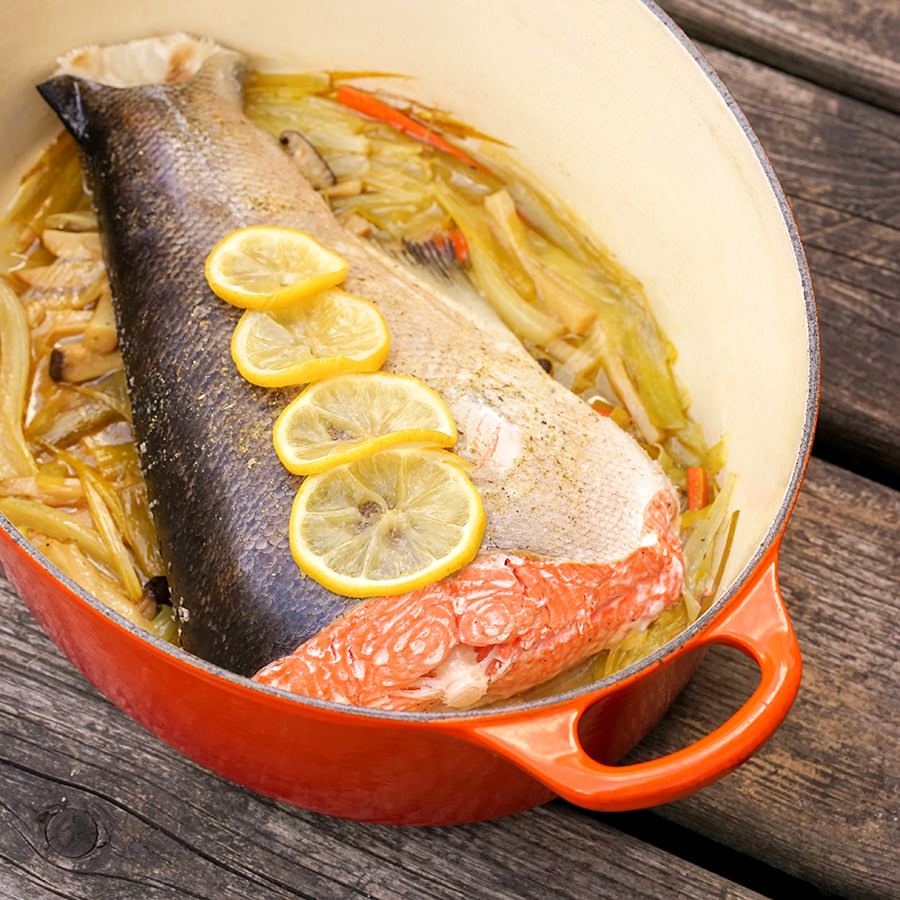 This old family recipe hearkens back to Philippe's childhood: « On Sunday in Autumn we were often welcomed back from church with the warm scent of slow-cooked salmon. My mother found this a convenient, practical dish.» It only takes about ten minutes of assembly, followed by 1 hour on very low heat (without supervision). The heat is, in facts, so low that it'll be good if you leave it on the stove even longer.
Ingredients
1 piece of salmon tail, about 3lbs
Salt to taste
3-4 cups vegetables (carrots, celery, onion, leek, fennel, etc.)
3 tbsp coconut oil or clarified butter
½ cup vermouth or white wine
1 lemon
4 tbsp fruity olive oil
Fennel leaves (opt.)
Spices for fish
Method
1

Rinse salmon and dry with a paper towel, grind spices for fish. Salt fish to taste and seasoned with half the spices.

2

Cut vegetable into cubes or matchsticks, depending on your preference. Place in small, enamel cast iron-pot or heavy pot. Add oil, remaining spices and a pinch of salt. Sweat vegetables on medium heat for 5 minutes.

3

Place salmon on top of vegetables and pour in vermouth. Place a few thin slices of lemon on top of the salmon. Add 2 tablespoons lemon juice. Bring to a boil.

4

Cover and gently simmer on very low heat until salmon is flaking nicely and vegetables are melting into a saucy juice, about 1 hour. Alternatively, you can simmer the salmon in an oven at 325°F

5

Pour in olive oil around the end of cooking and gently shake the pot to incorporate it into the cooking juices, let stand 15-30 minutes before serving. Garnish with fennel leaves, if available.