Salsa Brava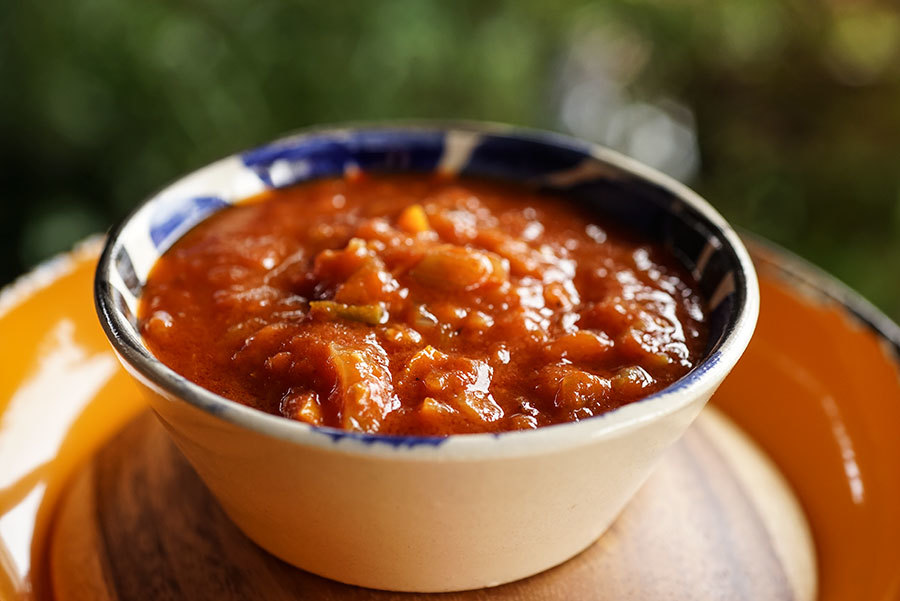 There must be as many versions of Salsa Brava as there are tapas bars and tabernas in Spain. This hot, Spanish sauce is used for the famous patatas bravas, but it also goes great with meat, cold cut, and vegetables of all kinds.
Ingredients
1 lb ripe tomatoes or 2 cups cooked tomatoes
6 Tbsp olive oil
1 large Spanish onion, chopped fine
1 red pepper, chopped fine
½ tsp thyme
1 Tbsp paprika
1 tsp Reshampatti pepper flakes
½ cup white wine
3 cloves garlic, chopped
2 tsp salt
1 Tbsp black pepper, ground
Method
1

Fill a pot with water and bring to a boil. Blanch tomatoes for 1 minute until the skins begin to come off. Cool in a bowl of cold water. Peel tomatoes and remove tough stems. Finely crush tomatoes and set aside.

2

Heat a large pot on medium-low. Add olive oil, onion and pepper and cook gently until onions begin to color (10-15 minutes). Add spices and cook for another minute.

3

Add wine, garlic, and reduce by 75%.

4

Add tomatoes, salt and pepper. Bring to a boil. Simmer for 30 minutes on medium heat, stirring occasionally so the sauce doesn't stick.