Turkish Salsa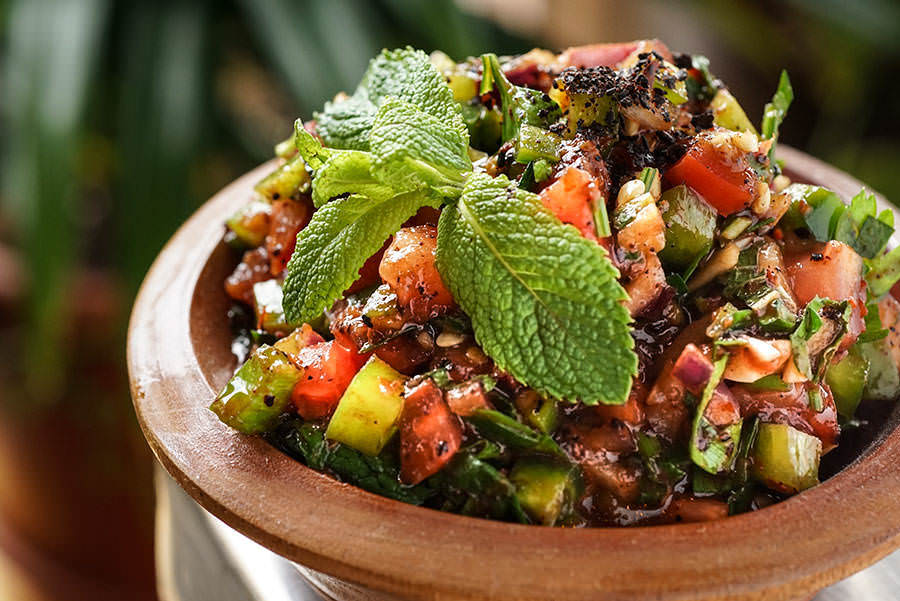 This Turkish salsa is really halfway between a salsa and a salad. You can adjust the heat accordingly: hotter for a salsa, milder to make it a salad. Avoid salting it too heavily, since the pepper paste is already salted.
Ingredients
1 medium red onion
2 cloves garlic
2 jalapeño peppers or 1 serrano
2 Tbsp lemon juice
3 Tbsp sweet Turkish pepper paste
3 Tbsp pomegranate molasses
1 tsp Isot pepper or Aleppo pepper
1 Tbsp sumac, ground
4 Tbsp olive oil
Salt to taste
3 tomatoes
1 green pepper
4 Tbsp fresh mint leaves, chopped or 1 Tbsp dried mint
4 Tbsp parsley, chopped
Method
1

Dice onion, garlic, and chile.

2

Place them in a bowl with lemon juice, Turkish pepper paste, pomegranate molasses, Isot pepper, olive oil, and salt. Stir, while smashing it with your hands, and let stand 10 minutes.

3

Meanwhile, halve tomatoes and grate the pulp with a cheese grater. Dice chilies fine.

4

Incorporate into the salsa with mint and parsley. Let stand 10 minutes before serving.