Salsa verde with pasilla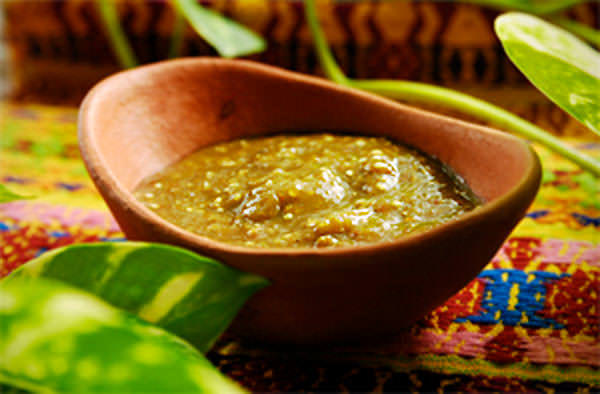 This common Mexican salsa usually goes with fatty meats like pork. It adds a lovely sourness to fish and seafood as well.
You can also make a raw version of this salsa. However, it must be eaten the same day. Cooked, it keeps for a few days in the fridge.
Makes about 1 cup of salsa. 
Ingredients
6 to 8 tomatillos
---
4 cloves garlic
---
1 Pasilla de Oaxaca or fresh Serranos
---
Salt to taste
---
Fresh cilantro (opt.)
Method
1

Remove husk from tomatillos and wash well. Place in a small pot and cover with water. Add a little salt.

2

Bring to a boil and cook on medium for 10 minutes. Remove from heat and cool.


3

Meanwhile, grill garlic in a hot pan. Set aside.


4

Cover Pasilla de Oaxaca with boiling water and let stand 15 minutes. If you're using serrano, chop it finely.


5

Place grilled garlic, chile and a little of the tomatillo cooking water in a blender and purée. Add cooked tomatillos one at a time and blend until smooth.


6

Add a little cilantro if desired.


7

Taste and add salt if necessary.