Sambal Mussels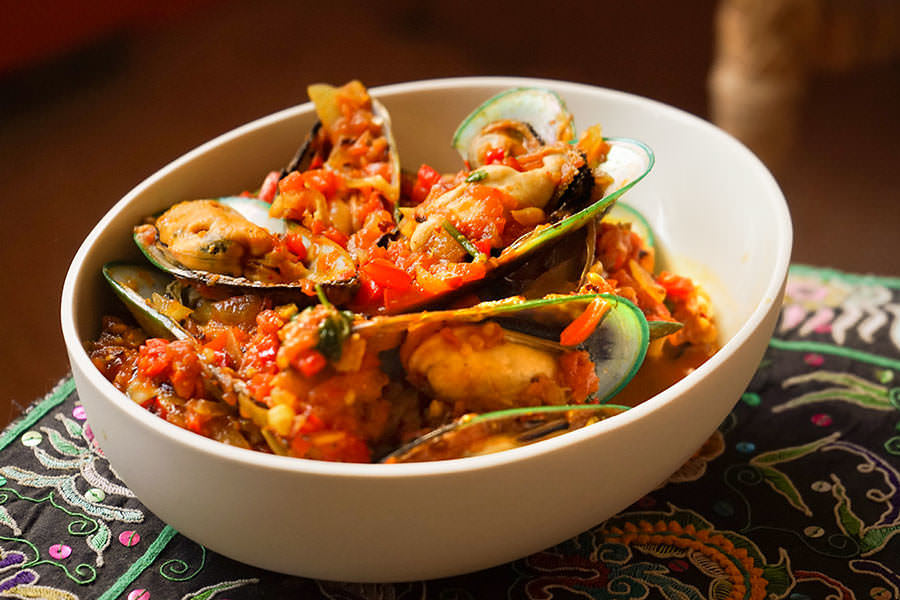 In Sumatra, this dish has neither peppers nor tomatoes- just hot chilies that are eaten just like vegetables. Frozen green mussels work well with this recipe, you only have to cook them in advance.
Ingredients
1 kg coooked mussels
3 Tbsp coconut oil
3 shallots, minced
4 cloves garlic, chopped
3 fresh Thai chilies (or more, to taste), sliced
2 Tbsp Sumatra curry, ground
20 basil leaves
1 red pepper, diced
1 lime (zest and juice)
1 cup tomatoes, diced
Salt to taste
1 tsp. palm sugar or brown sugar
Method
1

Wash the mussels well.

2

Heat oil in a pot. Sautée the shallots, garlic, pepper, spices, basil, pepper, and 1 tsp. grated lime zest.

3

When it begins to let its fragrance, add the tomato, salt and sugar. Cook for another 5 minutes. Add the mussels and lime juice. Cook for another 2 minutes until the mussels are heated through.