San Francisco Garlic Spaghetti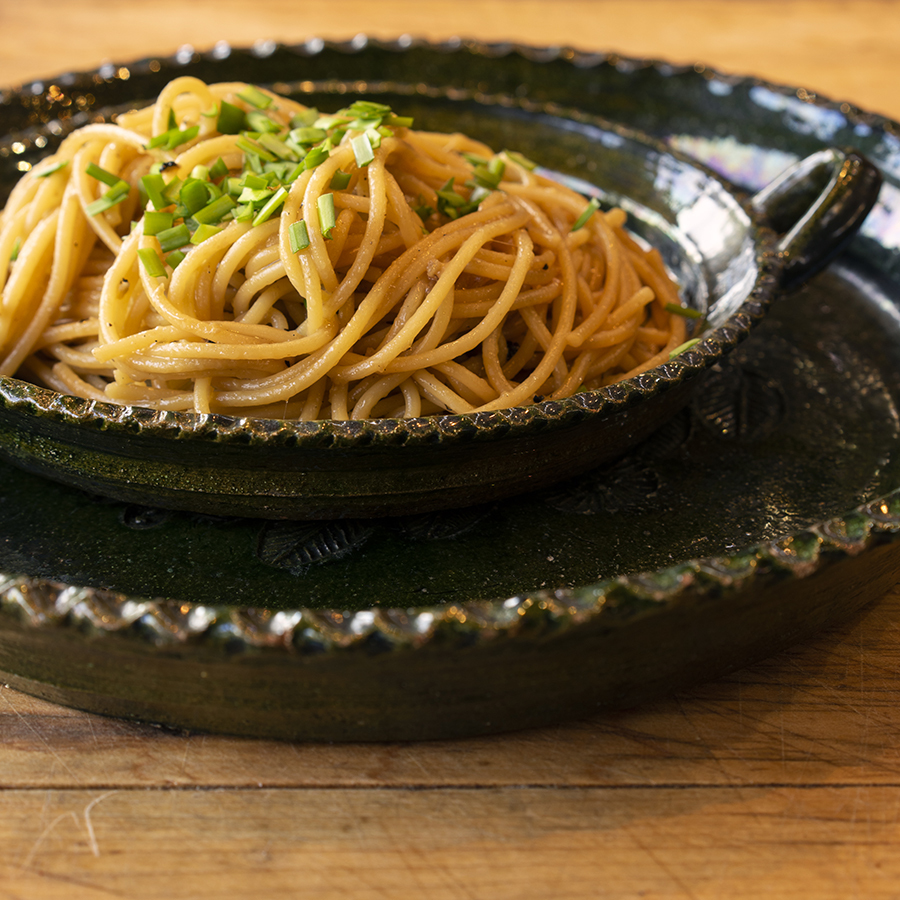 Don't allow the generous quantity of fresh garlic, butter, Asian sauces, and parmesan stop you from attempting this recipe – it's definitely an explosion of umami and is well worth the effort!
Our version of this San Franciscan recipe combines French and Vietnamese flavours. It's simple to prepare and can be made with Oriental or Western pastas. Although often served with seafood, these noodles are delicious as-is or garnished with green onions or chopped chives.
The secret of the sauce is to boil the pasta in a small quantity of water which eventually leads to obtaining leftover pasta water that is very starchy but with no salt, as the sauces used are already salty.
Ingredients
½ lb spaghetti or another pasta
10 garlic cloves
3 Tbsp black pepper, whole
6 Tbsp sweet butter
1 ½ Tbsp soy sauce
2 Tbsp fish sauce
1 ½ tsp Chinese Oyster sauce
A few drops of Worcestershire sauce
A few drops of grilled sesame oil
½ Tbsp maple syrup
½ cup grated parmesan
Chives or another fresh herb to garnish
Method
1

Boil 4 cups of water in a pan. Do not add salt!

2

Place the spaghetti in the boiling water and stir occasionally to avoid sticking.

3

Meanwhile, finely chop the garlic and crack the peppercorns.

4

Heat another large pan on low heat and add butter, garlic, and pepper.

5

Mix constantly using a spatula until the butter begins to foam. Add the soy, fish, oyster, and Worcestershire sauces, maple syrup, sesame oil, and a few spoonfuls of pasta water. Stir well to blend all ingredients and remove from the heat.

6

Once the pasta is cooked, put the sauce back on the heat, then add the un-drained pasta, using thongs.

7

Heat while stirring to coat the pasta evenly. If needed, add some more pasta water so that the sauce thoroughly coats the pasta. Remove from the heat and incorporate the grated parmesan.

8

Garnish with chives or green onions and serve immediately.