Sate Ayam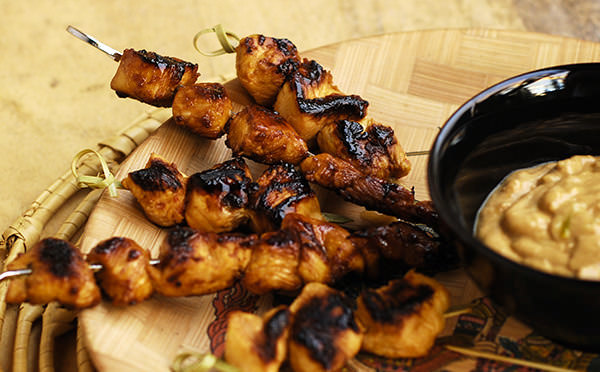 These little chicken kebabs are very flavorful. Serve as an hors d'oeuvre or on top of a salad for a light meal.
Ingredients
18 oz. boned Chicken (thighs work perfectly)
6 cloves Garlic, chopped
¼ cup Ketjap Manis
¼ cup Lime Juice
1 oz. Sambal Oelek
4 tsp satay spices, ground
Method
1

Slice chicken into 1/3-inch cubes.

2

In a large bowl, combine all ingredients. Set to marinate in the refrigerator for 1-2 hours.

3

On small bamboo picks, skewer three or four pieces of chicken per pick until all chicken pieces have been used up.

4

Over high heat, roast for two minutes on each side.

5

Serve with peanut sauce.