Sausage Rougail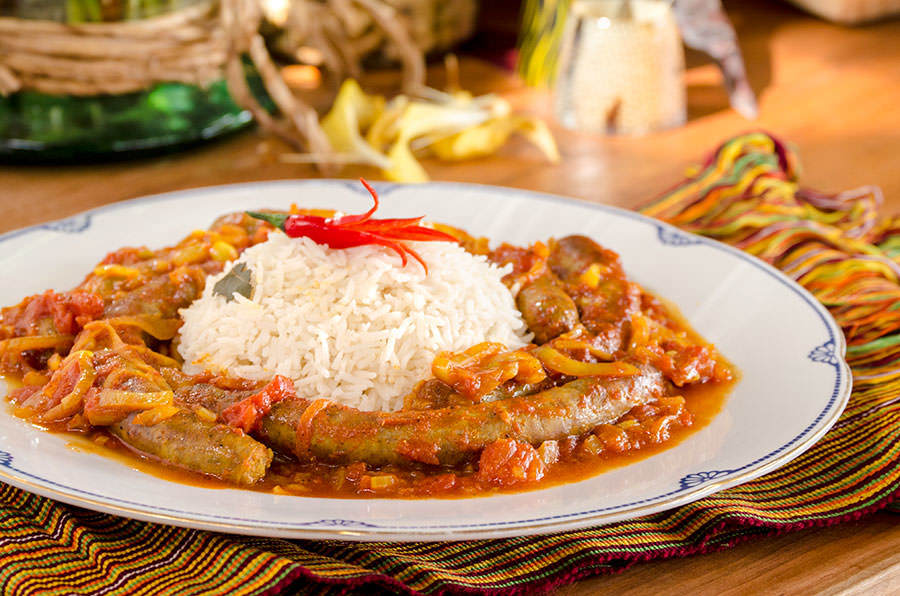 Rougail comes from the island of Reunion where it is made using a local masalé. To reproduce this iconic recipe, we can also use mauritian masalé or colombo spice blend, two curries from the French islands. 
Ingredients
1 Tbsp olive oil
2 lbs sausages
1 large onion
2 garlic cloves, chopped
2 Tbsp ginger, julienned
1 Tbsp Mauritian Masalé ou Colombo Spice Blend, ground
Hot chile, to taste
1 glass of white wine
2 cups tomatoes, crushed
Method
1

Heat oil in a pan on medium-low heat. Add sausages. Cook for a few minutes on each side to brown.

2

Add onion, garlic and ginger. Mix and cook for 5 more minutes, stirring occasionnaly. Incorporate the spices and chile. Cook well and deglaze with the wine.

3

Add tomatoes; cover and simmer for 10 to 15 more. Serve with rice.