Saussoun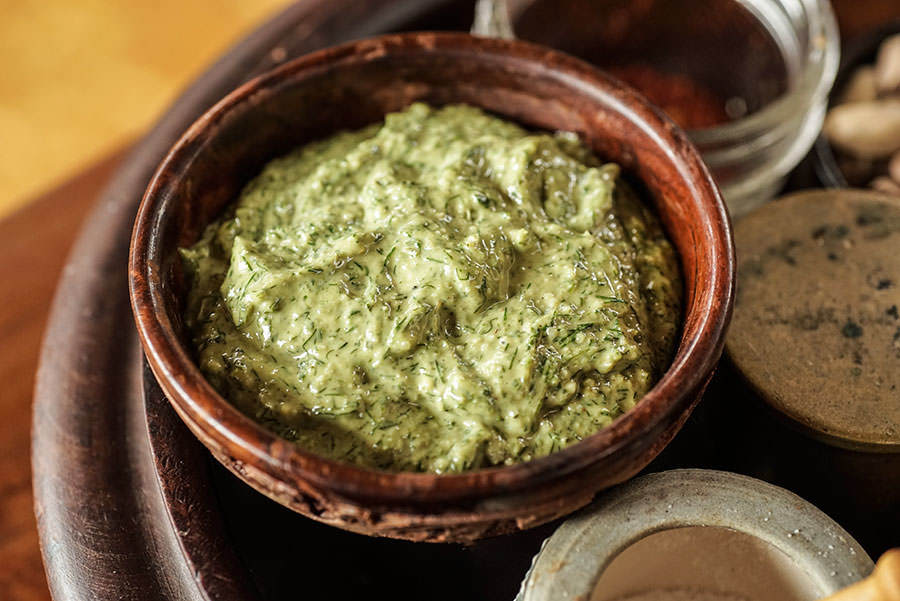 In its native Provence, lou saussoun is served with country bread during the harvest season. It would be eaten right in the fields sometime in the morning, before going back to work. We also like to serve it as a dip. It makes a great side to lamb, raw vegetables with tomatoes and fennel, or even cooked vegetables likes green beans or broccoli.
Ingredients
1 cup blanched almonds
1 clove garlic or more to taste
4 anchovy filets
1 tsp fennel seed
1 cup fennel leaves
½ cup fresh mint leaves or 2 Tbsp dried mint leaves
½ cup olive oil
Black pepper, ground, to taste
Salt to taste
Method
1

Wash fennel leaves well and remove tough stems. Tear leaves and tender stems into pieces, enough to make a cup. Set aside.

2

Place almonds, garlic, anchovies, and fennel seeds in a food processor and purée. Incorporate fennel and mint, then oil in a continuous stream, until the sauce is smooth and lustrous. Add a few spoonfuls of water if necessary. Pepper generously and add salt.