Sautéed Thai Noodles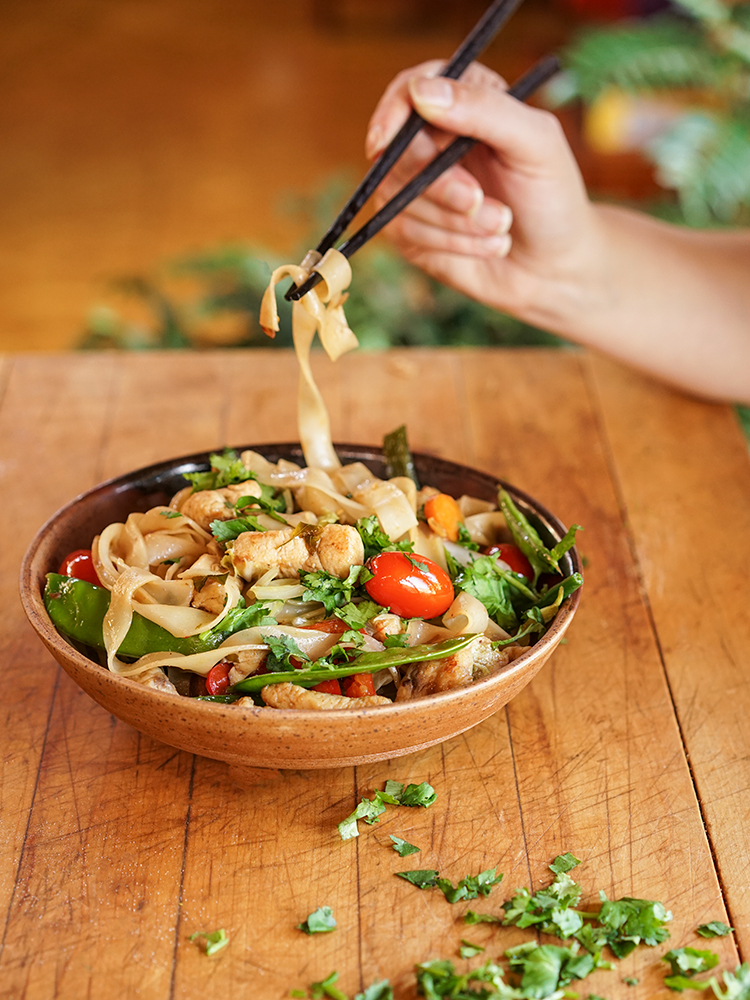 We enjoy preparing this recipe using a combination of various vegetables, depending on what is available. It's great with eggplants, bell peppers, tomatoes and snow peas.
Ingredients
½ packet of large rice noodles (125g)
1 de-boned chicken breast 
1 Tbsp Layover in Thailand blend, ground 
4 cups of assorted vegetables 
3 garlic cloves   
2 green onions 
½ inch ginger
Thaï chili, to taste  
1 Tbsp light soya sauce 
1 Tbsp fish sauce 
1 Tbsp oyster sauce 
4 Tbsp vegetable oil 
15 Thaï basil leaves or Italian basil
Salt to taste
Cilantro to taste (opt.)
Method
1

Place the rice noodles in a large bowl and cover with hot tap water. Let soak for 20 minutes to rehydrate, then drain and set aside.





2

Slice the chicken in strips. Place in a bowl with the spices, mix well then set aside. 




3

Meanwhile, wash and cut the vegetables in equal sizes, this makes the cooking more uniform.




4

Finely chop the garlic, green onions, ginger and chilies with a knife or a blender. Set aside in a small bowl.




5

Mix the three sauces and an equal amount of water in a small bowl and set aside.  




6

Keep all the ingredients ready and on hand.




7

Heat a wok or a large pan on high heat, pour in half the oil. Add basil leaves, allowing them to crackle for a few seconds then add the marinated chicken. Cook, stirring continuously for 1 to 2 minutes until the chicken is half cooked. Transfer to a bowl.





8

Pour the remaining oil and the blend of garlic and onions into the wok. Mix constantly for a few seconds then add the vegetables which require a longer cooking time. Sauté for 2 minutes and gradually add the remaining vegetables. Salt to taste. Incorporate the chicken while the vegetables are still crisp, but almost cooked. Sauté for another minute.




9

Add the drained noodles to the wok and mix continuously, using 2 spatulas if necessary, for one minute to soften and cook the noodles.




10

Pour in the blend of sauces. Toss well to season uniformly. Transfer to a platter and garnish with cilantro. Serve immediately.