Savoury fennel tarte tatin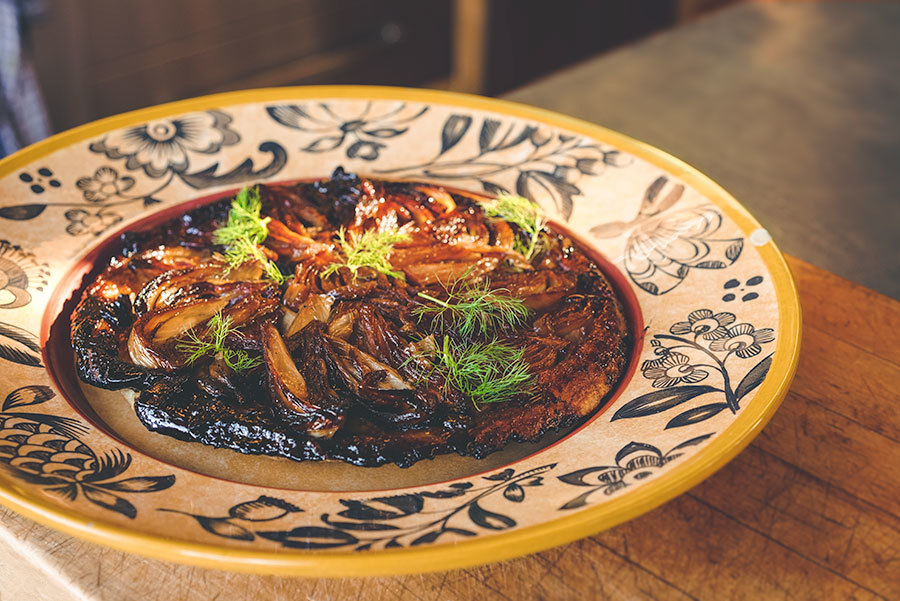 Tarte tartin is so spectacular that it shouldn't be just for dessert. With caramelized fennel, it's defiantly, definitively decadent.
Ingredients
2 large fennel bulbs
¼ cup maple syrup
6 Tbsp butter
1 good pinch of salt
Salt and pepper,to taste
1 tsp fennel seeds
1 recipe pie crust
1 tsp fleur de sel
Pie crust
1 cup un-bleached OR all-purpose flour
¾ cup cold butter
3 Tbsp coconut oil
½ tsp salt
1 Tbsp maple syrup
5-7 Tbsp cold water
Pie crust
1

Place flour in a food processor. Cut butter into ¾-inch cubes and add to the food processor with coconut oil and salt.


2

Pulse lightly until butter is broken into smaller pieces and dough becomes sandy.

3

Transfer everything into a bowl and add maple syrup, then incorporate gradually by hand, using enough cold water until it forms a ball. Roll in plastic wrap and let rest refrigerated for 30 minutes before rolling. This dough freezes well.
Tarte tatin
1

Cut each fennel bulb into 12 sections. Set aside whole, green leaves.

2

Pour maple syrup, half butter and a pinch of salt into a 10-inch cast-iron pan. Place on medium heat and caramelize, be careful not to burn the syrup.

3

Once everything begins to brown, remove from heat and quickly place the nicer fennel sections and the remaining butter into the pan to prevent the caramel from burning. Chop remaning fennel into ¾-inch


cubes and add to the pan. Salt, pepper and sprinkle on fennel seeds. Pour ¼ cup water into the pan and place on high heat.

4

Cover and boil for 5 minutes allowing steam to soften the fennel. Remove the cover and continue cooking for a few minutes more allowing the gravy to concentrate in the pan. Remove from heat. Let rest for 30 minutes.

5

Roll dough into a circle a little larger than the diameter of the pan.

6

Heat oven to 375 °F. Place dough on the cooked fennel and tuck any excess under the vegetables. Cook 30 to 40 minutes, enough so the dough becomes golden and the caramel bubbles on the side. Remove from oven and let rest 1 to 2 hours until the dough becomes crusty.

7

When serving, place the pan on high then heat for 1 to 2 minutes. Place your hand on the crust and turn the tart delicately to unstick it from the pan. Place a large plate on top and in one, smooth gesture, turn it upside down. Adjust any fennel that might have stuck to the pan.


Garnish with fennel leaves and fleur de sel.