Scallops and leeks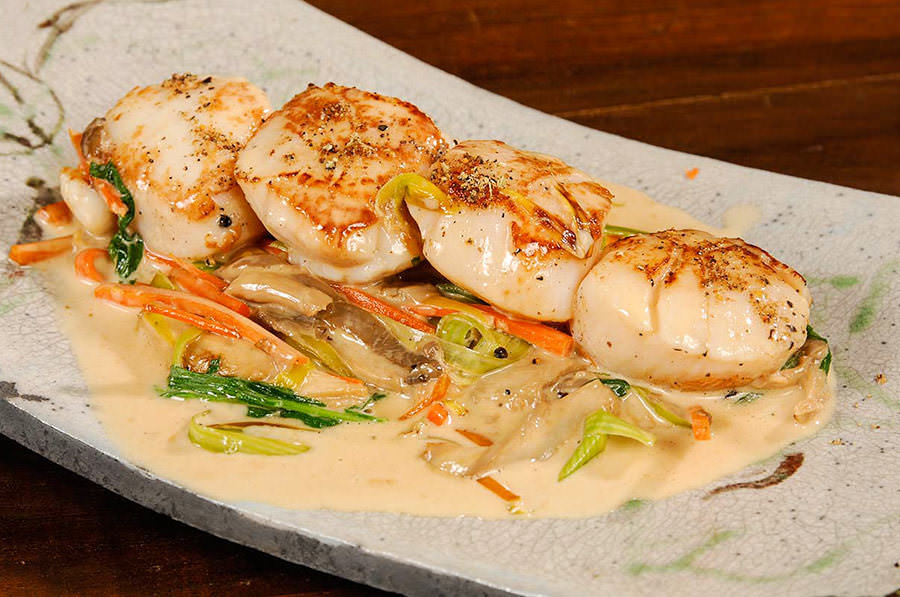 Here is where a dash of Garam Masala can spice up a dish as it is ready to be served - much as we might add freshly ground pepper.
Ingredients
1 lb medium scallops
2 Tbsp olive oil
Salt and pepper, to taste
3 Tbsp butter
1 medium leek, julienned
1 small carrot, julienned
¼ lb oyster mushrooms, julienned
½ cup white wine
1 Tbsp Chinese oyster sauce
¼ cup heavy cream
2 Tbsp tarragon or basil
Generous pinch Garam masala, lightly roasted and ground
Method
1

Wash the scallops and pat dry with a paper towel. Place the scallops in a bowl with the olive oil. Add salt and pepper and mix well.

2

Heat a large pan on high heat. Add the scallops and spread them evenly in the pan. As soon as they have caramelized on one side, place them in a large plate. Space them generously so that they cool quickly and set aside.

3

Add the butter and vegetables to the pan while still hot. Cook for 1 minute, stirring with a wooden spoon.

4

Pour in the wine and the oyster sauce. Cover and continue cooking the vegetables in the steam for 2 or 3 minutes until just tender.

5

Remove the cover; add the cream, tarragon, scallops, and their juice (if any). Mix well, and cook for a few more seconds.

6

Place on a large platter, sprinkle with Garam Masala, and serve immediately.