Scotch & Salmon Mousse Canapés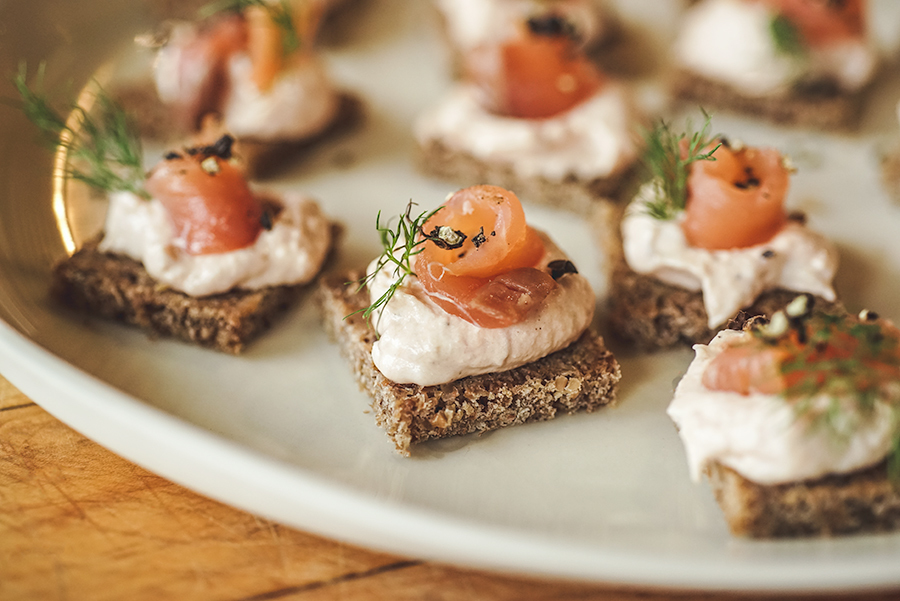 A lovely twist to a proven classic, with a generous dash of Scotch.
Ingredients
170 gr smoked salmon
4 Tbsp Scotch 
250 gr cream cheese at room temperature  
1 tsp white pepper, ground 
1 pinch Cayenne pepper, ground 
6-8 slices of Pumpernickel bread
Dill weeds, to garnish
Cracked black pepper, to garnish
Method
1

Using your fingers, shred ⅔ of the smoked salmon and put in a food processor with the Scotch. Reduce to a purée. Set aside the remaining smoked salmon to garnish later.


2

Add the room temperature cream cheese. Blend well to obtain a spreadable purée. Add milk to achieve the desired texture if needed.

3

Cut the bread into 1 ½-inch bite-size squares.

4

Place a heaping spoonful of smoked salmon cheese on each canapé. Garnish with a strip of smoked salmon, dill and cracked pepper.