Seven Vegetable Couscous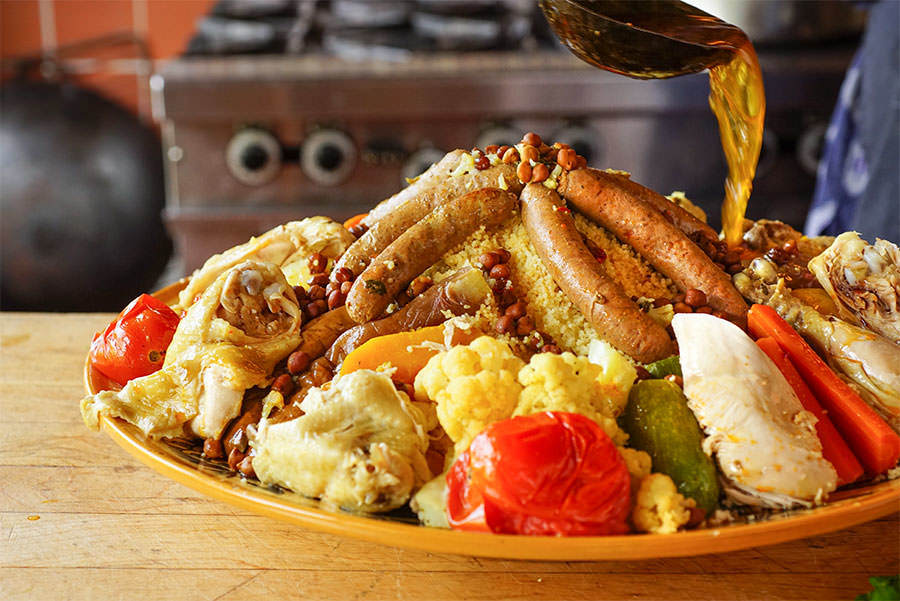 You can switch up the vegetables, but be sure to put in seven of whichever you chose- it will impart more flavour to the couscous and, according to Moroccans, bring luck to all those you share it with. You can easily replace the chicken with a veal shank or neck with the bone, or even lamb shoulder.
Ingrédients
2 lb chicken, cut in pieces
1 medium onion, chopped
3 Tbsp Couscous spices, ground
Salt, to taste
6 Tbsp butter
2 medium onions, halved
2 small eggplants, halved
5 medium carrots, peeled
5 small turnips, halved
½ squash, skinned
4 medium tomatoes
½ cauliflower, in florets
2 cups fresh gourganes (or cooked chickpeas)
½ lb merguez (optional)
1 bunch cilantro
½ tsp Ras-el-hanout, ground (optional)
Method
1

Put the chicken and chopped onion in a large pot with the ground spices, salt, and butter. Add 8 cups of water.

2

Bring to a boil and cover.

3

Reduce heat and simmer for 30 minutes, covered.

4

Add the remaining onions, eggplants, carrots, and turnips. Cook for 20 minutes more.

5

Add the squash, tomatoes, cauliflower, gourganes or chickpeas, and the merguez. Chop the cilantro and add to the pot.

6

Mix the Ras-el-hanout with a half cup cooking liquid. Pour into the pot and let cook for 5 minutes more.

7

Serve on a bed of couscous.