Shrimp and chicken Masalé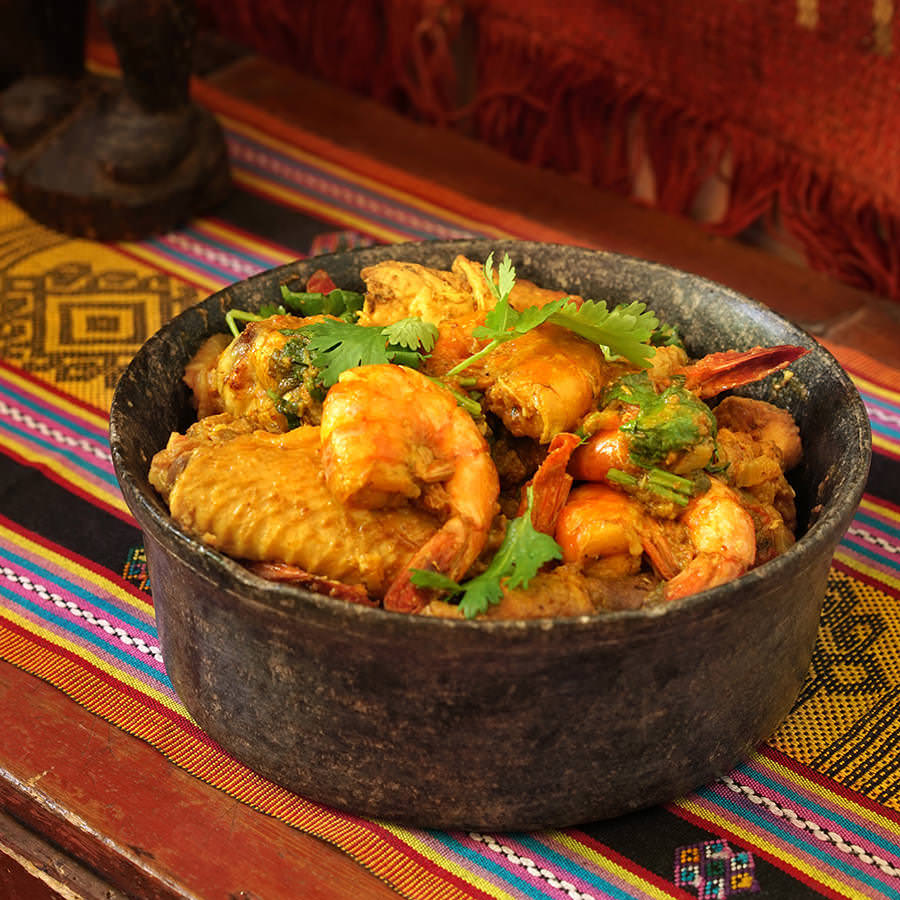 Here's a curry typical of Mauritius, as much for the combination of ingredients as for the spices added to the masalé. You can make this recipe with boneless chicken and peeled shrimp, but keep in mind that the chicken bones and shrimp shells will add a lot of flavor to the sauce.
Ingredients
2 lbs bone-in chicken
1 lb medium, unpeeled shrimp
1 Tbsp Mauritian Masala
1 tsp turmeric
½ tsp cumin
½ tsp black pepper
½ tsp thyme
Teja pepper to taste
Salt, to taste
3 Tbsp coconut oil
2 oniond, sliced
4 cloves garlic, chopped
1 Tbsp ginger, chopped
6 scallions, chopped
3 tomatoes, roughly chopped
2 Tbsp tomato paste
4 Tbsp creamed coconut (opt.)
Cilantro for garnish
Method
1

Chop chicken into medium pieces. Place in a bowl with shrimp. Grind spices and add to the bowl with salt. Mix well.

2

Soak curry leaves in 2 tablespoons of water.

3

Heat a pot on medium. Add oil and heat for a few seconds. Add drained curry leaves and onions. Sauté for 4-5 minutes.

4

Add garlic, ginger and scallions. Sauté for 2 minutes. Add chicken and shrimp. Sauté for a few more minutes, until the oil starts to turn yellow and the chicken and shrimp change color.

5

Add tomatoes, tomato paste and a small glass of water. Stir well, cover and simmer for 30 minutes.

6

Incorporate the coconut and cilantro. Turn off heat and let stand for 30 minutes.