Sikil pak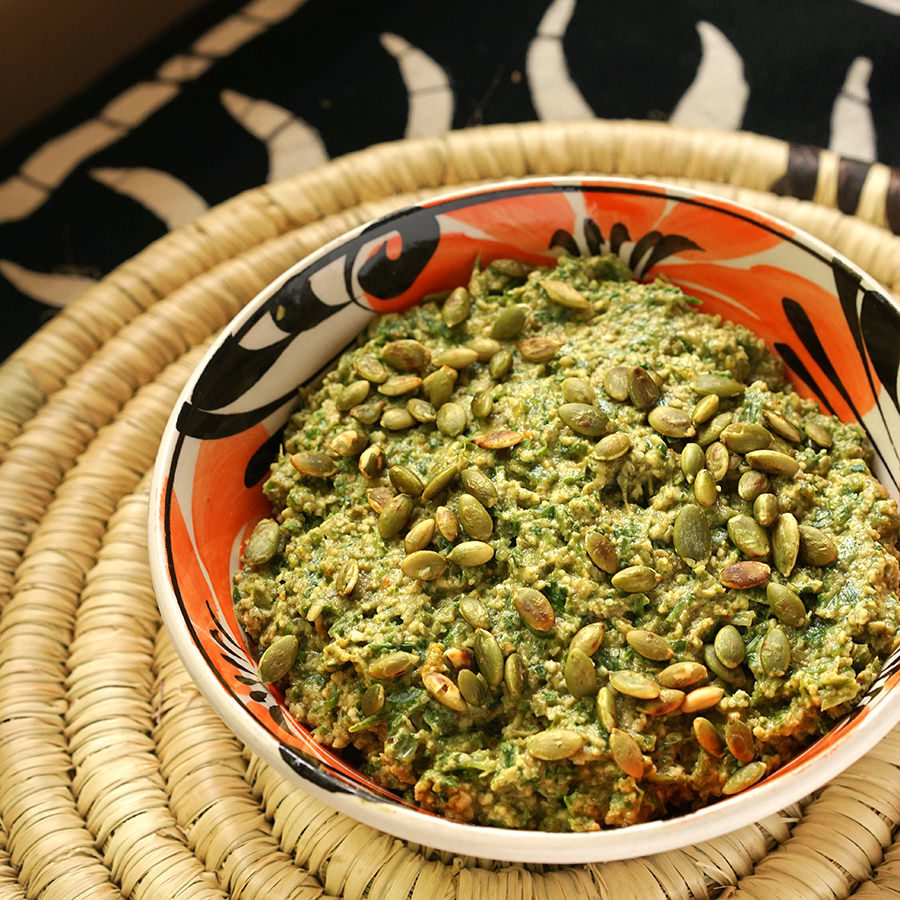 This ancient Mayan recipe includes the fruity and potent Habanero. If you want a milder sauce, use another green chile, like Jalapeño. A little trick that demands no additional work: grill a few more tomatoes than the recipe calls for. You'll be very happy to find them already prepared in your fridge two or three days later to make a quick salsa or stir-fry.

Ingredients
1 cup pumpkin seeds
1 habanero or less hot chile
2 medium tomatoes
1 cup cilantro
6 scallions or 1 bunch chives
Salt
Method
1

Heat a cast iron pan on medium high and toast pumpkin seeds until they start to crackle and start to darken in color. Set aside.

2

Place tomatoes on the pan. Turn them once the skin begins to blacken. Grill on all sides and remove when tomatoes are cooked (around 15 minutes).

3

At the same time, grill chile in the same fashion (around 5 minutes).

4

Remove as much of the black skin as possible when the tomatoes are cool enough.

5

Put the cooled pumpkin seeds in a food processor and reduce to a fine powder, but not a purée. Pour into a bowl. Put the tomatoes and grilled chile in the food processor and reduce to a chunky purée.

6

Chop cilantro and scallions into large pieces. Put them in the food processor with the tomato purée and grind into a fine purée by lightly pulsing the food processor.

Add the ground pumpkin seeds and run the food processor until you achieved the desired texture. Traditionally, sikil pak is not ground finely, but you can make it creamy if you like. Taste before adding salt since pumpkin seeds are naturally salty.