Silk Road Carrot Cake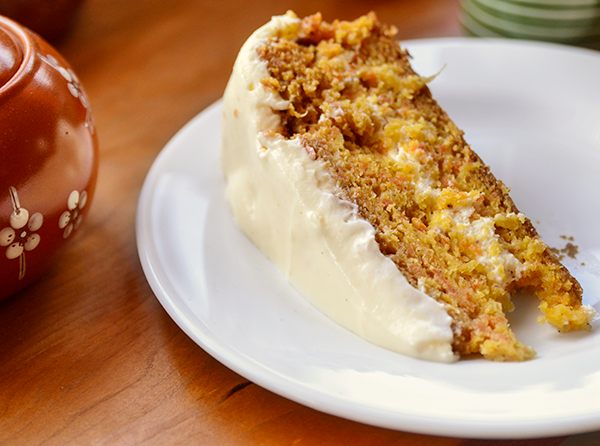 Silk Road blend is not traditionally used in desserts, but the rose, cardamom, and cassia bud bouquet inspired Arik to make this carrot cake recipe.
Ingredients
2 cups sugar
3 eggs
2 cups diced, canned pineapple, drained
2 cups carrots, grated
1 cup vegetable oil
3 cups flour
3 tsp baking powder
2 tsp baking soda
1 tsp salt
1 tsp Silk Road Blend, ground
Icing
¼ lb butter
¼ lb cream cheese
2 cups icing sugar
1 tsp. vanilla extract
a little cream or milk
Method
1

Preheat oven to 350 °F.

2

Beat the eggs, oil and sugar together with an electric mixer. Add the pineapple and carrots. Mix well.

3

Sift the dry ingredients together in a bowl. Add the sifted dry ingredient mixture to the first mixture little by little.

4

Pour into two 9 x 9 moulds and bake for 1 hour.

5

While the cake is cooking, stir all the icing ingredients together, adding a little milk or cream according to the desired consistency.

6

Remove the cakes from the oven and let cool for a few minutes before taking them out of the moulds.

7

Ice the first cake with icing, and finish the remaining icing on the second cake.