Silk Road Peach Crumble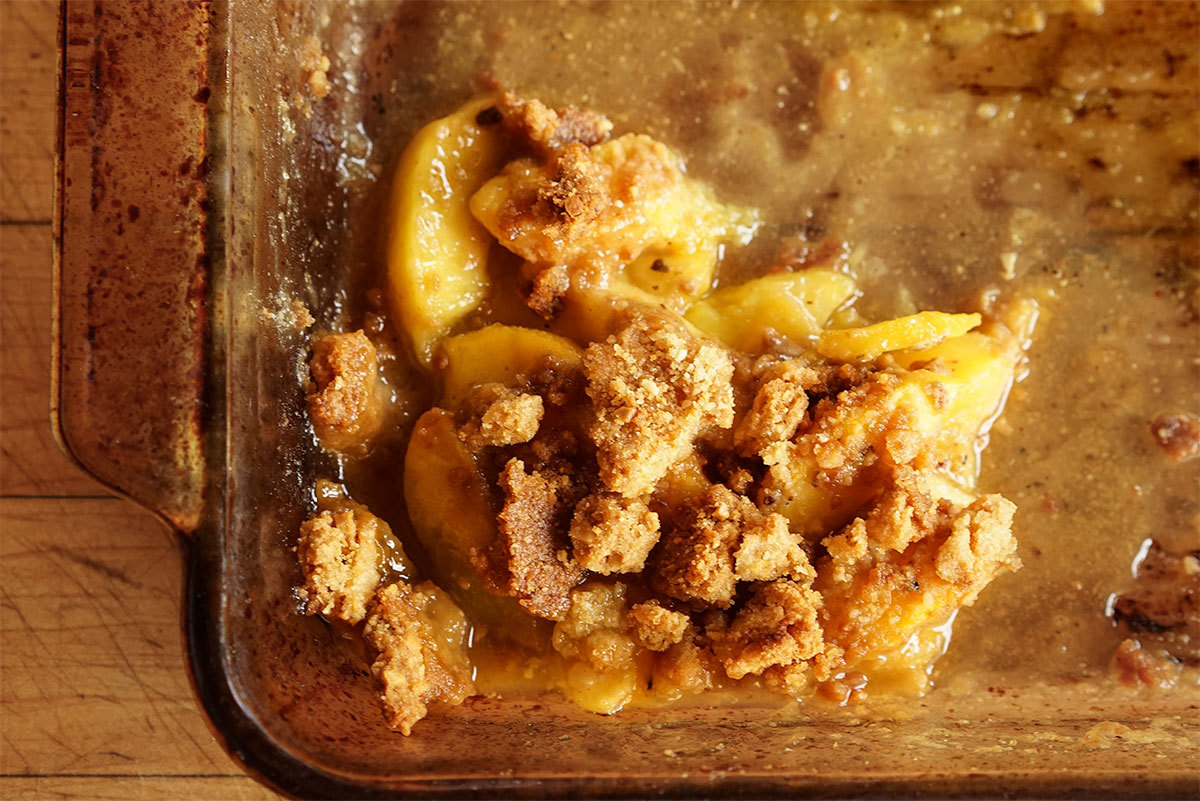 A simple summer favorite, revisited. Feel free to let the peaches macerate for more than an hour if you want a runnier filling.The crumble can be prepared ahead of time and stored in an airtight container for several days.
Filling
3½ lbs peaches, peeled, halved, pitted, and sliced into wedges (about 15 peaches)
1/3 cup sugar
1½ tsp cornstarch
3-4 tsp lemon juice
1½ Tbsp Silk Road Blend, ground
Pinch salt
Crumble topping
1 cup all-purpose flour
5 Tbsp white sugar
¼ cup packed brown sugar
Pinch salt
2 tsp vanilla extract
½ cup sliced almonds
6 Tbsp unsalted butter, softened and cubed
Method
1

Preheat oven to 350° F. Line a baking tray with parchment paper.

2

For filling, add peaches and sugar to large bowl and toss gently. Let rest for 30 min-1 hour, stirring gently a few times.

3

While peaches are macerating, prepare the crumble. Combine flou, sugars, and salt in a food processor. Drizzle vanilla on top and pulse to combine. Add ¼ cup almonds and butter and pulse until mixture begins to clump, about 30 seconds, scraping halfway id necessary. Add remaining almonds and pulse to roughly combine.

4

Transfer mixture to parchment-lined baking tray and spread into 1 layer, with breaking up any very large chunks into smaller chunks. Bake on middle rack until lightly browned, around 20 minutes.

5

While crumble is baking, place a colander over a large bowl and drain peaches. Set aside ½ cup of drained juice and discard remaining juice (it makes a delicious syrup). Add lemon juice, salt, spices, and cornstarch to reserved juice and whisk together.

6

Combine peaches and juice mixture in an 8-inch square baking dish.

7

Remove crumble from oven and increase heat to 375° F.

8

When crumble is cool enough to handle, sprinkle it on top of the peach mixture. Place in oven and bake for 25-30 minutes, until bubbling around edges.

9

Let cool at least 15 minutes before serving. Serve with ice cream or Vanilla Lemon Whipped Cream.