Silk Road Rack of Lamb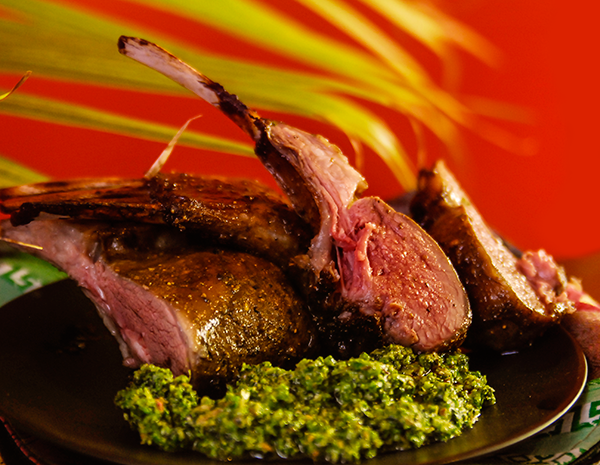 This spice blend combines influences from chinese, indian and persian cooking traditions.
Ingredients
Marinade
1 tbsp Silk Road Blend, ground
2 garlic cloves, finely chopped
3 tbsp pomegranate molasses
2 tsp salt
2 tbsp olive oil
Pistachio and mint pesto
1 Tbsp green peppercorns
2 garlic cloves
1 tsp salt
¼ cup fresh mint leaves
Generous ⅓ cup pistachios
1 Tbsp argan oil or olive oil
2 Tbsp lime juice
Method
1

Mix all the marinade ingredients and rub the racks of lamb. Allow to rest for 30 minutes.

2

Preheat the oven to 425ºF.

3


Roast the lamb for 10 minutes before lowering the oven to 350ºF. Let cook until the meat is pink (10-15 minutes more).

4

Remove from the oven and let rest in a warm place for 10 minutes before carving.

5


Serve with the pistachio and mint pesto.
Pistachio and mint pesto
1

Put the green peppercorns, garlic and salt into a mortar and pound into a paste. Add the mint and continue pounding into a purée. Add the pistachios and continue until a pesto consistency forms. With the pestle, slowly incorporate the argan oil and the lime juice.

2

This pesto can be kept for up to two days in the refrigerator but is at its best when freshly made.

An ancient ingredient, pomegranate molasses is made by boiling down fresh pomegranate juice until it is thick enough to keep without preservatives. This fruity, sweet and sour syrup is used in salad dressings, marinades, sauces, or simply as a finishing touch. We like to call it the Middle East's balsamic vinegar. The best brands contain no sugar or other added ingredients, only pomegranate.