Sindhi Chola - Sindhi-style chickpeas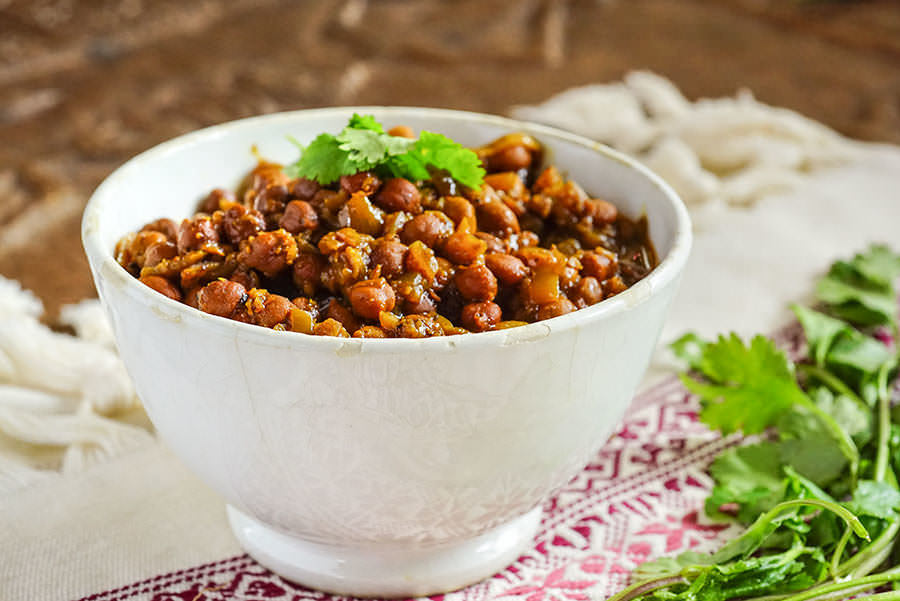 You can also make this with regular chickpeas. The trick to making a good, dark curry is to cook with a little black tea.
Method
1

Soak the chickpeas overnight in the fridge.

2

The following day, drain the chick peas and place in a pot. Add the tea and enough water to cover.

3

Stick the cloves into the onion and add to the pot along with the black cardamom and bay leaf. Bring to a boil. Skim. Add the asa foetida and cook until the chick peas are tender (about 1 hour). Set aside.

4

Heat a large pot. Add the ghee and chopped onion. Cook over medium heat until the onion is well browned.

5

Meanwhile, purée the onion, garlic, and ginger. Add to the pot with the browned onion. Cook and reduce for another 10 minutes.

6

Grind the other spices. Add to the pot and cook for another 2 minutes. Add the tomato and cook until it reduces.

7

Drain the chickpeas and reserve the cooking juice. Remove the whole spices (clove, cardamom, and bay leaf).

8

Add the chickpeas to the pot with just enough cooking juice to cover. Salt to taste. Simmer for 15-20 minutes more until the curry has a nice consistency.