Singapore Beef and Rice Noodles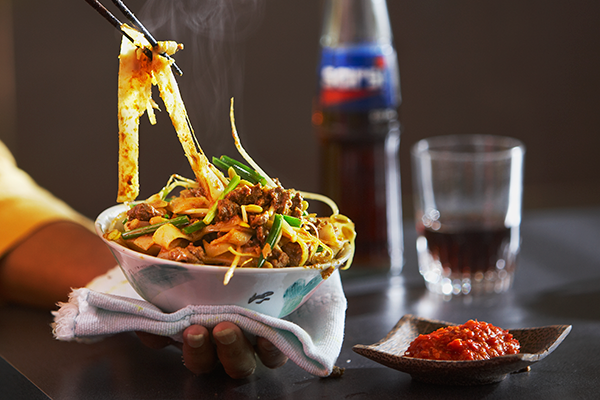 This classic of Singapore street food marries Indian flavors with Chinese cuisine. Chinese ingredients like soy sauce and sesame oil are the ideal compliment to Indian curry.
But the best part of this dish is how easy it is to prepare. Simply soak the rice noodles in warm water while you prepare the other ingredients. Singapore Beef and Rice Noodles pairs well with sambal, a Southeast Asian chili-based condiment.
Ingredients
9 oz. broad (½") rice noodles
8 oz. lean ground beef
4 tbsp. peanut oil or vegetable oil
½ cup chicken stock or water
1 bunch chives or Chinese garlic or ½ bunch green onions, sliced
1-1½ cup sprouted mung beans, sliced
Marinade
½ Tbsp cornstarch
3 Tbsp light soya sauce
¼ tsp salt
½ tsp White Pepper, ground
½ tsp sugar
Seasonings
3 French shallots, sliced
4 cloves garlic, chopped
1 medium onion, sliced
Spices
Method
1

Soak rice noodles in warm water until soft (20-30 min.) Drain.

2

In a bowl, combine beef with the marinade ingredients. Using chopsticks, combine thoroughly until mixture is of even consistency. Do not use your hands to blend, as this method tends to turn the mixture into a paste.

3

In a wok, combine oil and Seasoning ingredients over high heat for 1-2 minutes. Add Spices and cook another 30 seconds. Add beef and stir constantly until meat is nearly cooked (aprox. 2-3 min.) Add chicken stock and cook another 30 seconds.

4

Add drained noodles to the wok and continue to stir. Once the noodles begin to soften and absorb the liquid (1-2 min.), add bean sprouts and chives.

5

Combine all ingredients for 30 seconds and serve piping hot.