Smashed Cauliflower Salad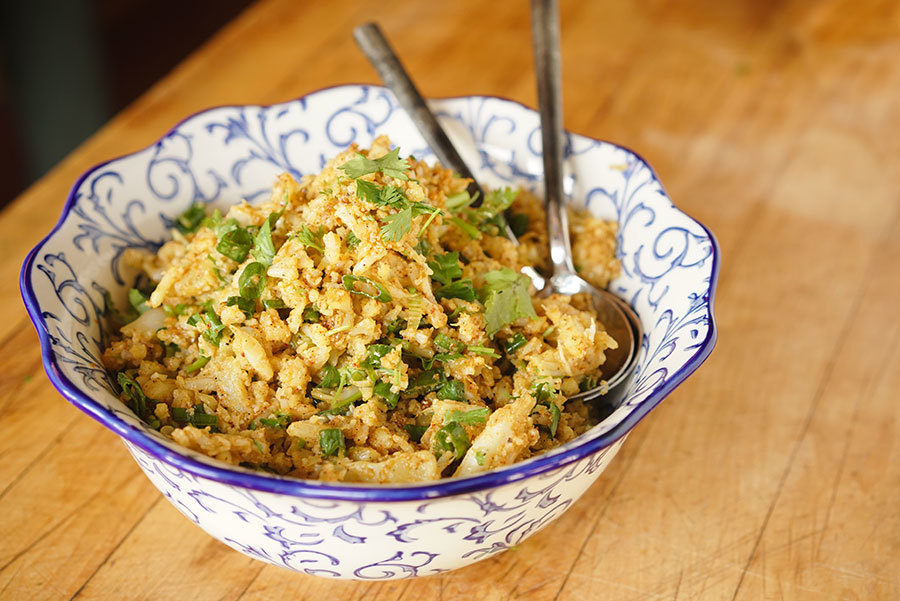 To obtain optimum results when making this salad, it's important not to rinse the cauliflower in cold water - allow it to cool at room temperature. This way it will remain relatively dry and the salad will not be water-logged. 
Ingredients
1 medium cauliflower 
2 Tbsp couscous blend, ground 
¼ cup lemon juice 
2 Tbsp red wine vinegar 
1 tsp grated lemon zest 
Salt, to taste 
½ cup olive oil 
½ cup cilantro or parsley, chopped  
Method
1

Crumble the cauliflower into small bouquets and cook in salted, boiling water until tender. Pour into a colander and let cool (do not place under cold water).

2

Meanwhile, place the spices, lemon juice, vinegar and lemon zest in a salad bowl. Mix well using a fork, incorporate the olive oil.  

3

Put the lukewarm cauliflower into the salad bowl and crush with a potato masher until the cauliflower resembles a rustic couscous.  

4

Mix well and let rest for at least 30 minutes.

5

Incorporate chopped herbs of your choice, taste and adjust for salt, oil or lemon juice, according to your personal preference.