Smashed Potatoes with Ras-el-hanout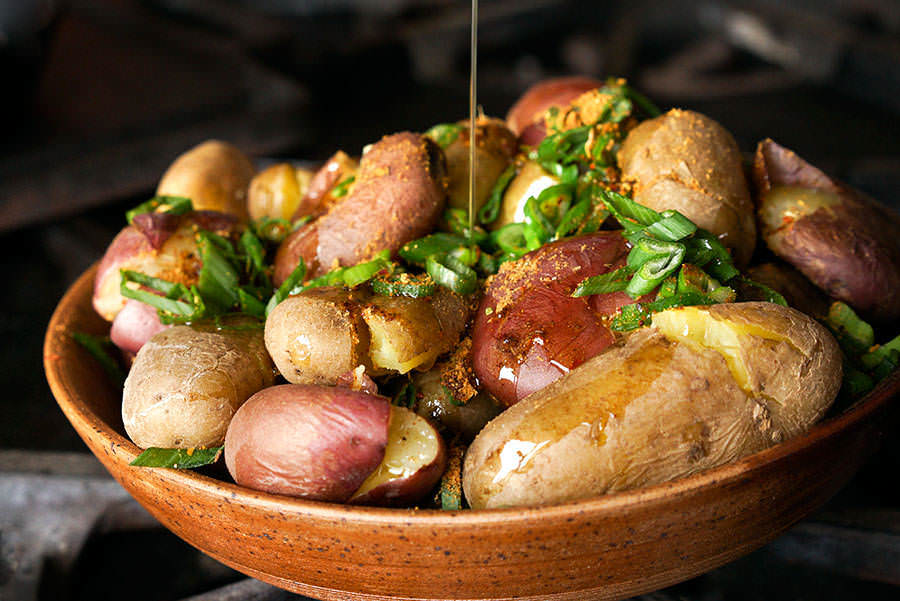 If ground Ras-al-Hanout is added to hot oil, it loses some of its more delicate flavours. Pour the oil over the potatoes at the last possible minute, which will give the spices just enough time to cook and diffuse their aromas. Once cooled, these potatoes can also make an excellent salad if you add some good quality vinegar.
Ingredients
1 lb new potatoes
Salt
1 pack chives or scallions, minced
½ tsp Ras-el-Hanout, ground
6 Tbsp olive oil or butter
3 cloves garlic, minced
Chili flakes, to taste
Method
1

Boil the potatoes in salted water.

2

Drain them and place on a large platter.

3

Smash the potatoes a little with a fork to allow the flavours to penetrate more deeply. Sprinkle the Ras-al-Hanout and chives over them. Salt if needed.

4

Heat a small pan and add the oil.

5

When the oil is hot, add the chili and garlic and cook for a few seconds. Pour it over the potatoes and serve hot.