Smoked Tea Gravlax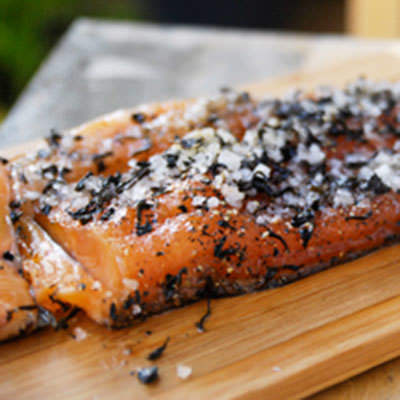 A great Scandinavian classic, revisited by Philippe. This recipe is extremely simple, and should be prepared several days in advance.
This gravlax will keep 5 days in the fridge at 2-3 months in the freezer.
Ingredients
½ cup sugar
⅓ cup coarse salt
3 Tbsp white pepper, cracked
¼ cup smoked tea leaves (Lapsang Souchong, etc.)
Fresh salmon filet, skin-on
Method
1

Mix sugar, salt, pepper and tea together. Use 60 ml (¼ cup) for each 500 g (1 lb) of salmon.

2

Lay the filet, skin-side down, on a plate and sprinkle the flesh side with the salt mixture. Cover the fish and lay another plate on top. Place some weights on top of the plate (canned vegetables, vinegar bottle, etc.)

3

Let the fish marinate 5-7 days in the fridge, flipping the fish every other day.

4

Slice gravlax thinly.

5

Garnish with fresh chive.