Snow Peas with Bacon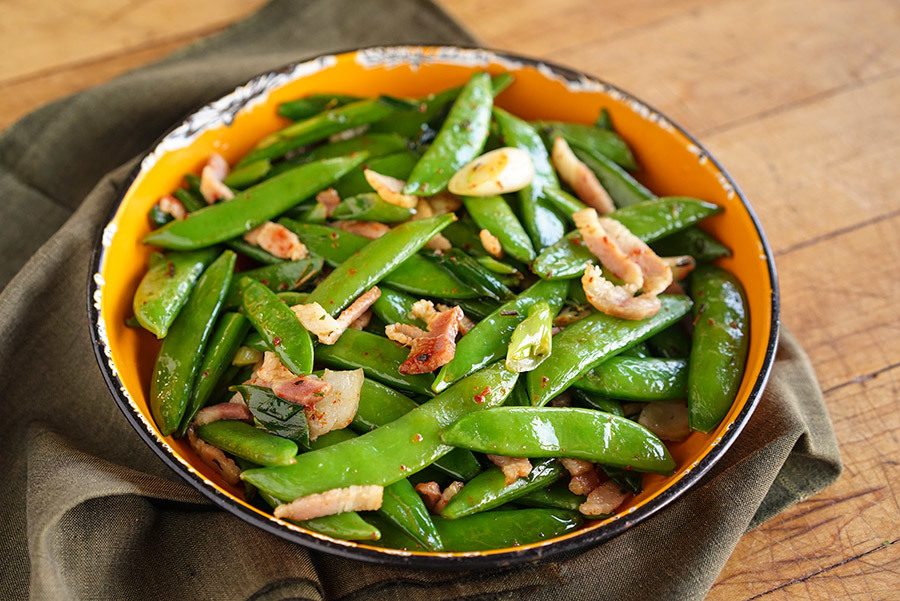 This snow pea dish uses a Chinese cooking method with firmly Western flavors. Don't cook the bacon so much it gets crispy, it should be a little supple.
Ingredients
1 lb snow peas
1 Tbsp salt
4 slices bacon, sliced thin
4 shallots, chopped
½ tsp thyme
1 tsp honey or maple syrup
Pepper or chile flakes to taste
Method
1

Wash snow peas and remove stems.

2

Fill a wok halfway with water. Add salt and bring to a boil. Cook snow peas in water for 2-3 minutes (the time it takes to bring the water back to a boil).

3

Transfer to a colander and let drain for 1 minute.

4

Wipe the wok. Place on medium heat. Add bacon and shallot. Cook for 1 minute, the time it takes for the shallots to start sizzling. Add the well-drained snow peas and the remaining ingredients.

5

Stir well and cook for 30 seconds more.