Sofrito de verdura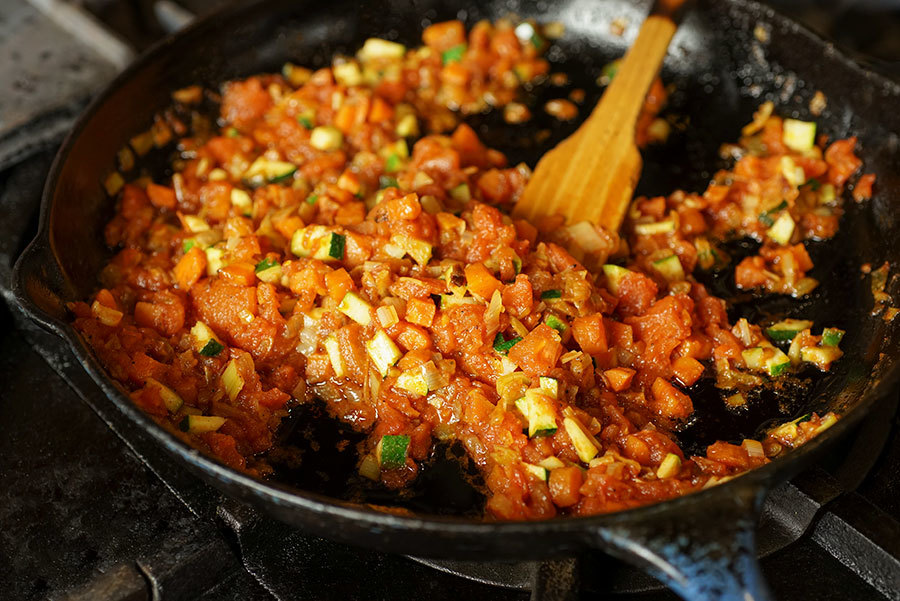 In this recipe, the vegetables confit in the olive oil, and take on a concentrated flavor and gooey texture. Sofritos are dishes composed of vegetables and aromatics than are slow-cooked in oil, or sofreir. 
Ingredients
8 very ripe Roma tomatoes
½ cup olive oil
1 onion, chopped
1 small leek, sliced
4 cloves garlic, chopped
1 medium carrots, diced small
1 tsp salt
3 zucchini, diced small
½ tsp smoked paprika or regular paprika
Pepper to taste
Parsley or cilantro, chopped
Method
1

Blanch tomatoes in boiling water for 1 minute. Cool in cold water and peel. Cut in half and squeeze out seeds. Chop tomato flesh into small pieces.

2

Pour half the oil and onion in a pot. Heat pot on very low and sofreir 15 minutes without coloring. Incorporate leek, garlic and carrot. Add the tomatoes and cook until they begin to render water. Cook gently until the vegetables are softened. Add salt; turn heat up to medium and cook gently, stirring on occasion. 

3

When tomatoes begin to dry out and sizzle again (around 1 hour), reduce heat to medium-low and add zucchini, paprika and pepper. Continue cooking until the vegetables are a tender confit, about 20 additional minutes. 

4

Add a splash of olive oil and garnish with chopped parsley.