Sopa de lima - Yucatan Chicken Soup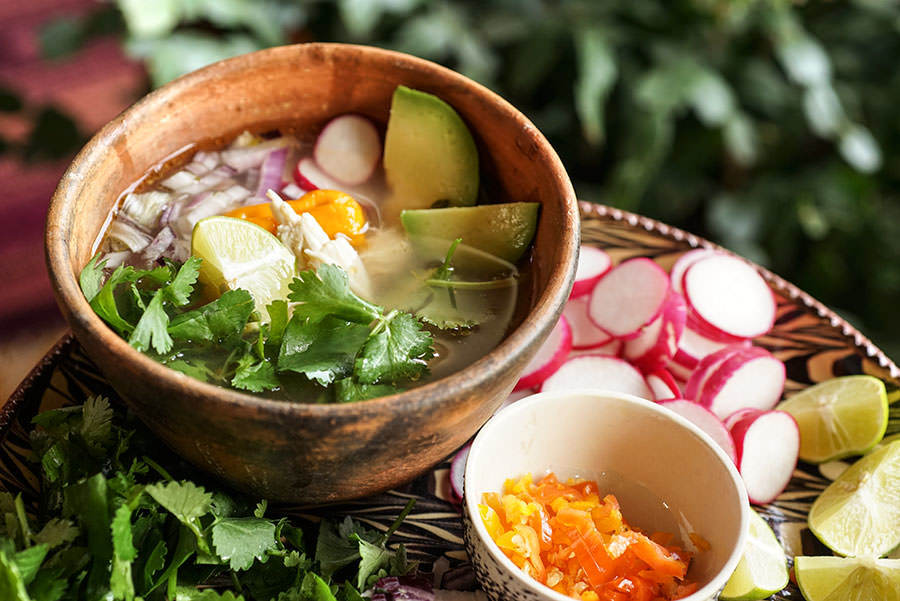 In Yucatan, this soup is served on the hottest summer days- the lime-habanero combination is intensely refreshing. It is, paradoxically, quite comforting in cold weather too! Use the cilantro stems to fragrance the stock, and keep the leaves for garnish. In our version, the corn kernels are omitted, as well as the corn tortilla strips that are traditionally added at the end of cooking.
Ingredients
2 lbs bone-in chicken
12 cups water
1 handful cilantro stems and roots
1 bulb garlic
1 onion
1 jalapeño
½ tsp cinnamon
1 tsp oregano
4 medium tomatoes
2 onions
2 poblanos or 1 green pepper
Salt and pepper to taste
4 limes
1 cup cilantro
1 small red onion, chopped
½ cup radishes, sliced
1 avocado, sliced
1-2 habaneros, chopped
Method
1

Wash the chicken well in warm water. Place in a large pot with the water and cilantro stems and roots. Bring to a boil and reduce heat.

2

Meanwhile, toast garlic, onion, and jalapeño in a dry pan on medium-high until they are fully blackened. Add, as is, to the pot with the spices. Cook on medium-high until the chicken is tender, around 45 minutes.

3

While the chicken is cooking, dice remaining vegetables.

4

When the meat is tender, remove grilled vegetables, stems and roots and discard. Add diced vegetables to the pot. Simmer for another 10 minutes.

5

Remove the chicken pieces and shred with two forks. Return the meat to the pot. Return them to the pot. Salt and pepper to taste. Add grated lime zest. Juice 2 limes and add juice to the pot.

6

Slice remaining limes into pieces and place on a plate with cilantro, red onion, radish, avocado and habaneros.

7

Serve the soup in individual bowls and let everyone add the garnishes of their choice.