Soto Ayam - Indonesian Chicken Noodle Soup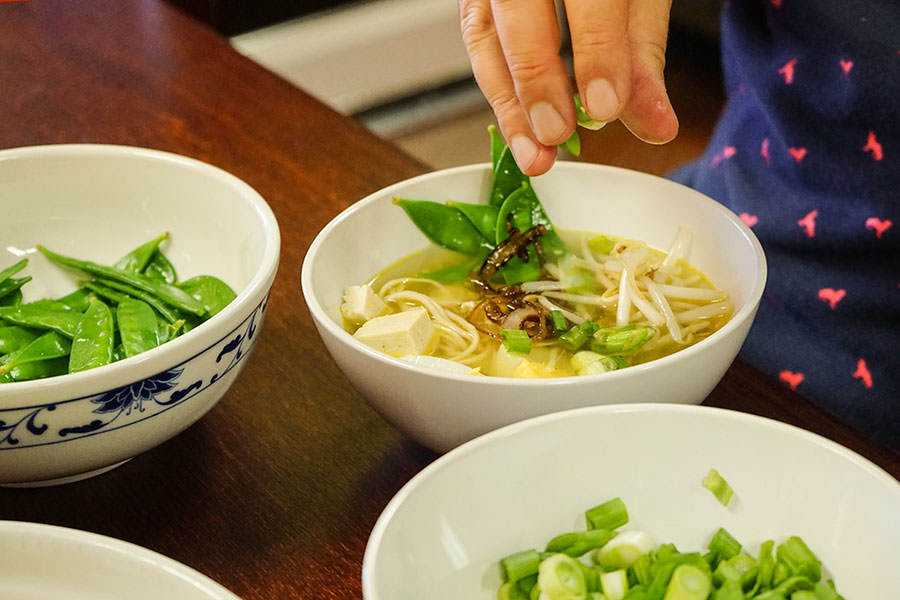 A fragrant, comforting soup. In Indonesia, each guest assembles the soup to their liking at the table, which is the real charm of the dish.
Ingredients
1 chicken
1 shallot
1 Tbsp Balinese curry
1 inch slice ginger
1 stalk celery
2 tsp salt
Garnishes
2 shallots
4 Tbsp vegetable oil
½ lb bean sprouts
250 g Chinese rice noodles
2 stalks celery, with leaves
2 blocks tofu (optional)
Thai pepper or Sambal Olek
6 hard-boiled eggs
Method
1

2

Wash the chicken and remove the excess fat. Wash the giblets but do not use the liver.

3

Place the chicken and giblets (except for the liver) in a pot. Cover with water and bring to a boil.

4

Add the shallot, spices, ginger, celery, and salt. Cook over low heat just until the chicken is cooked and begins to fall apart (around 1 hour).

5

Remove the chicken and drain the bouillon through a strainer.

6

Meanwhile, slice the shallots. Heat oil on medium and cook until the shallots are well carmelized.

7

Rinse the bean sprouts with boiling water and drain well.

8

Cook the noodles in salted boiling water. When they are cooked, run them under cold water and drain well.

9

Slice the celery stalks fine.

10

Cut the tofu cubes in 1 inch slices.

11

Slice the peppers fine.

12

Remove the meat from the chicken and put the meat in the boiling bouillon.

13

Place all the garnishes on the table and let each guest assemble their soup to their taste.