Cauliflower Curry Soup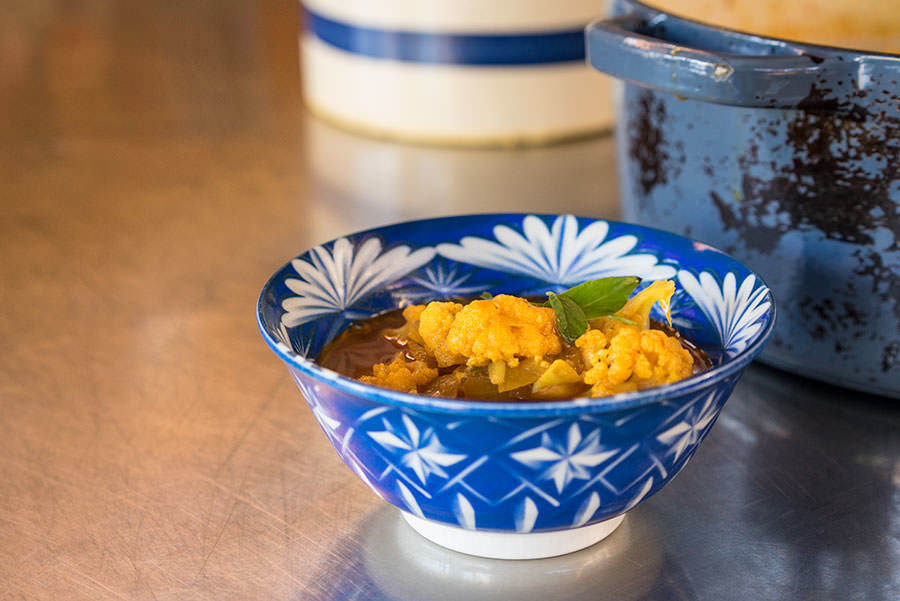 This cauliflower soup can be puréed at the end of cooking with a stick blender. We like to just blend half of it for a soup that's both creamy and chunky.
Ingredients
6 Tbsp clarified butter
1 Tbsp brown mustard seed
12 curry leaves
3 medium onions, chopped
4 cloves garlic, chopped
2 Tbsp ginger, chopped
1 tsp Reshampatti, ground (opt.)
2 Tbsp Mauritian Masalé or curry of your choice
½ tsp turmeric, ground
¼ cup tomato paste
8 bouquets cup cauliflower florets
8 cups chicken stock or meat stock
4 Tbsp lemon juice
Salt and pepper to taste
1 cup basil, chopped
1 tsp Garam Masala, ground
Préparation
1

Place clarified butter in a large pot heated on medium with mustard seeds. When the mustard begins to crackle, add curry leaves then onions, garlic, ginger and chile. Sauté five minutes on medium-low heat.

2

Add turmeric, curry, and tomato paste; sauté five minutes more.

3

Add cauliflower and stock. Increase heat to maximum and bring to a boil. Reduce heat and simmer for 20 minutes.

4

Add lemon juice. Taste, then add salt and pepper. Garnish with basil and garam masala.