Tamarind Chicken Soup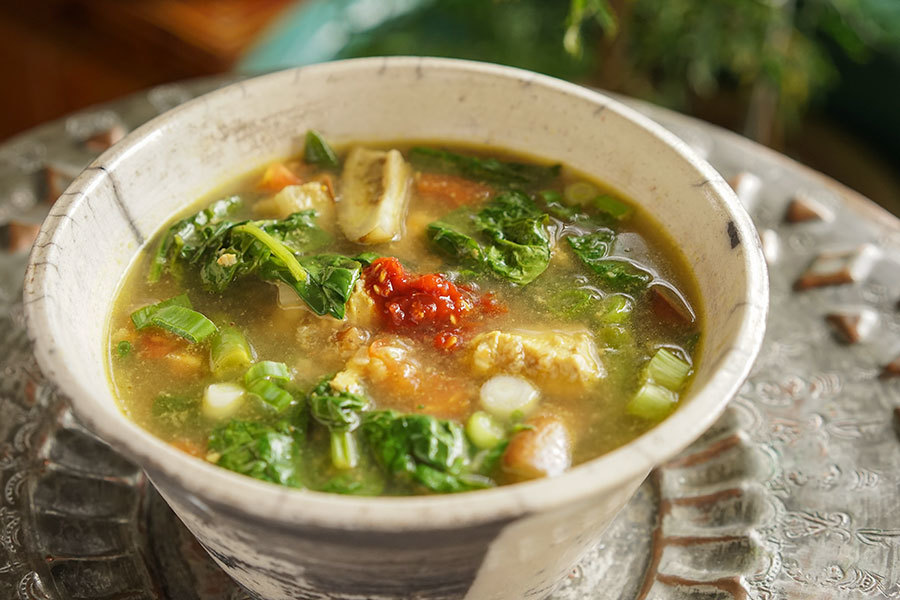 It's not absolutely necessary to sauté the chicken for this soup. If you want to make your life easier, just chop the aromatics, purée them in a food processor, then boil it all together.
Ingredients
3 Tbsp tamarind or ¼ cup lemon juice
3 cloves garlic, chopped
3 shallots, chopped
1 inch ginger, chopped
1-3 Thai chilies, dry or fresh
2 tsp turmeric, ground
¼ tsp long pepper or white pepper, ground
2 lbs bone-in chicken
4 Tbsp coconut oil
8 cups water
2 Tbsp fish sauce
1 cup green beans
1 small Chinese eggplant
1 small onion
1 less-ripe tomato
1 cup water spinach or spinach
Salt to taste
3 scallions
Sambal oelek
Method
1

Soak tamarind in ¼ cup boiling water.

2

Place garlic, ginger, chile, turmeric, and long pepper in a mortar or food processor and purée.

3

Chop chicken into bite-sized pieces. Put the chicken and aromatic purée in a bowl. Stir well to ensure each pieces is well-coated.

4

Pour oil into a pot and sauté chicken on medium heat about 12 minutes. Pour in water, soaked tamarind pulp, and fish sauce. Boil 15 minutes.

5

Meanwhile, dice vegetables into 1-inch pieces and add to the pot when the chicken is cooked, except spinach. Simmer 5 more minutes. Add the spinach and water and cook 2 minutes more.

6

Add salt to taste. Garnish with minced scallion and a side of sambal oelek.