Spaghetti sauce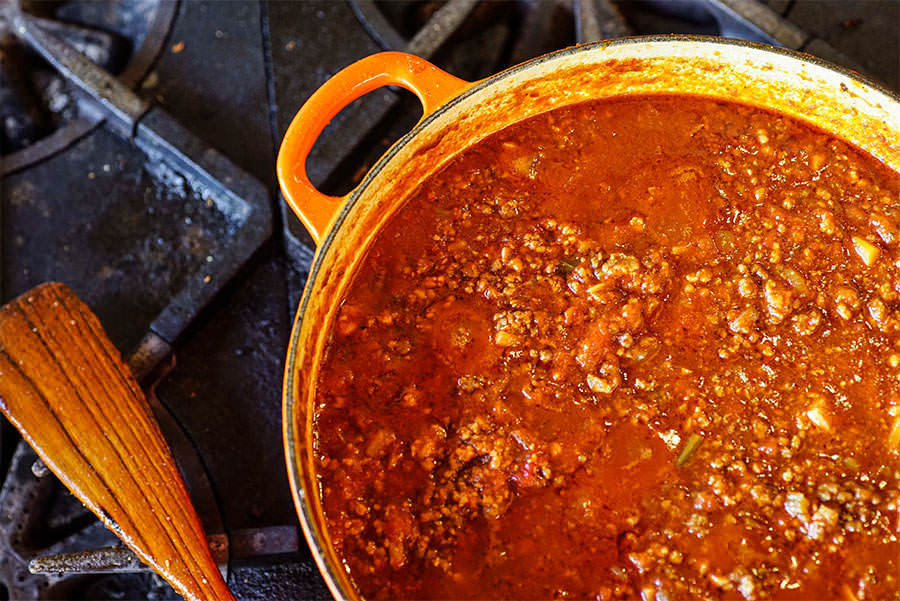 This recipe is very easy to make, especially since the most important thing is the cooking time. To obtain a truly savoury sauce, it's best to cook it long and slow- reducing the juices and concentrating the flavours. 
This recipe makes 16 to 20 cups of sauce that freezes very well.
Ingredients
2 lb ground beef
2 lb ground pork
½ cup olive oil
4 Tbsp Spaghetti Spices, ground
1 celery, minced
1 cup carrot, minced
3 cups onions, minced
12 cloves garlic, minced
½ cup tomato paste
12 cups cooked tomatoes (canned or homemade)
salt and pepper, to taste
Method
1

Heat the oil in a large pot over medium heat. Add the beef and 1/3 of the ground spices.

2

Cook, stirring constantly, until the meat is cooked and crumbly. Remove the meat with a slotted spoon, leaving the fat in the pan.

3

Repeat with the pork, cooking until the meat is falling apart. Remove in the same fashion and set aside.

4

Add the celery, carrot, onion, and the rest of the spices to the pot. Sautée until the onion is beginning to change color and smell (5-8 minutes).

5

Add the garlic and tomato paste. Mix well and cook for another 5 minutes or more, being sure to stir constantly to prevent burning the tomato paste.

6

Put the meat back in the pot and mix well. Add the tomatoes, salt and pepper.

7

Bring to a boil, reduce the heat, and simmer for an hour and a half, uncovered, stirring occasionally to prevent the sauce from sticking to the bottom. Serve on top of spaghetti with grated parmesan.