Spanish Rice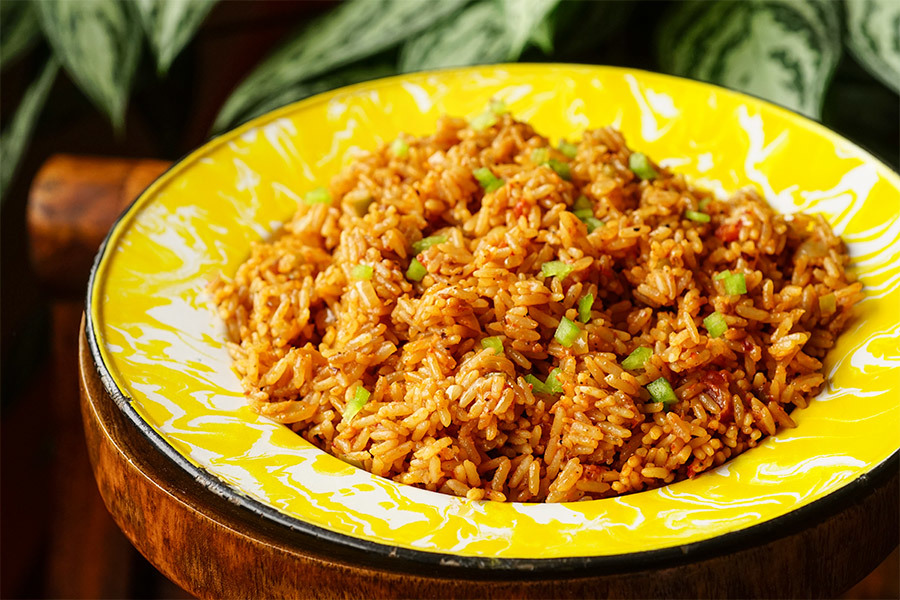 Served in countless Mexican restaurants, diners, and homes throughout America, "Spanish Rice" is in fact a Creole creation of the 20th Century. Whatever its origins, Spanish Rice is a welcome side dish, filling, or base for a weeknight casserole. 
Like any common home cooked dish, there are as many variations of this recipe as there are homes in America. It seems rice and tomato sauce is the only real requirement- although a good dash of chili powder does show up in a lot of recipes. 
While the dish is more satisfying with a quick, herby homemade tomato sauce, many very good Spanish rice recipes call for canned tomato sauce as well.
Tomato
1 medium onion chopped
2 cloves garlic, chopped
1 large can stewed tomatoes
1 Tbsp oregano
1 tsp salt
Rice
2 Tbsp olive oil
2 medium onions, minced
1 green bell pepper, seeded and minced
2 cloves garlic, minced
2 cups short-grain rice
2 Tbsp Chili Spice blend, ground
1 large tomato, chopped
Salt to Taste
Method
1

If using canned tomato sauce, skip to step 4.


2

Place all tomato sauce ingredients in a food processor and purée until smooth.

3

Place tomato sauce in a medium pot and bring to a boil. Reduce until you have about 4 cups of sauce.


4

Heat olive oil in a large pot or Dutch oven on medium. Add onions and sauté until softened, 3-4 minutes. Add bell pepper and garlic and sauté for another 3-4 minutes until soft but not brown.

5

Add rice and cook until rice begins to brown, about 5 minutes. Add ground spices and stir. Add tomato and stir well.


6

Add 4 cups of tomato sauce, mix well, and bring to a boil. If you don't have enough tomato sauce, add water or stock.

7

Reduce heat to low, cover, and continue cooking for about 20 minutes.

8

Remove cover and fluff rice with a fork. Continue cooking for a few minutes on low if the rice is still too liquidy.

9

This rice is best if it rests at least 15 minutes before serving.