Spice Trekkers' Duck Curry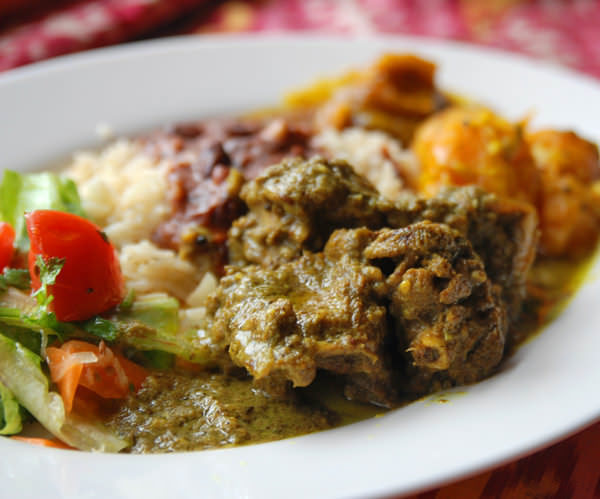 This personal duck curry recipe incorporates the fundamental elements of the various duck curries we've tried around the world. It features a Creole marinade, a west-Indian curry powder, a south-Indian tamarind, Bengalese caramelized Panch Phoran and, as a nod to the British clubs of the Raj in Sri Lanka, even a glass of scotch

This fusion works amazingly well and always surpasses our expectations.
Ingredients
4 Tbsp Coconut Milk
4 Tbsp Olive Oil
1 tsp Panch Phoran, whole
1 tsp Cumin, whole
2 Onions, chopped
2 Tbsp fresh Ginger, chopped
4 garlic Cloves, chopped
4 Tbsp Tamarind paste
1 ½ cups Coconut Milk
1 glass of Scotch
Marinade
1 bunch of Green Shallots, chopped
4 cloves Garlic, chopped
1 Tbsp Thyme
6 Shado Bene Leaves (aka 'Ngo Gai' by Asian grocers) or ½ pack of fresh coriander, chopped
4 Tbsp Celery Leaves, chopped
1 Tbsp Angostura (optional)
1 Tbsp Soy Sauce
Chili Powder, to taste
Method
1

Remove the excess fat from the duck.

2

In a bowl, mix the ingredients of the marinade. Marinate the duck for 1-24 hours, the longer the better.

3

In a small bowl, mix the curry powder with 4 tbsp. coconut milk and 4 tbsp. water. Set aside.

4

Heat a large pot to medium. Add the olive oil, the panch phoran and the cumin. Mix well until the spices brown. To prevent the seeds from burning, add the curry paste immediately. Mix constantly until the paste dries and begins to brown.

5

Add the ginger, the garlic, the onions and the tamarind. Mix well and cook until the onions are tender (approx. 5 minutes).

6

Add the duck and cook for 5 minutes more. Add the coconut milk and enough water to cover the meat. Do not cover with a lid. Let simmer until the duck is tender and the sauce considerably reduced. Stir regularly and add a little water if necessary. Everything should take approximately 1-1 ½ hours.

7

Pour the scotch and let simmer for another 5 minutes.

8

Let rest for ½ hour before serving. It might go without saying that this dish is even better when heated up the following day.