Spiced doughnuts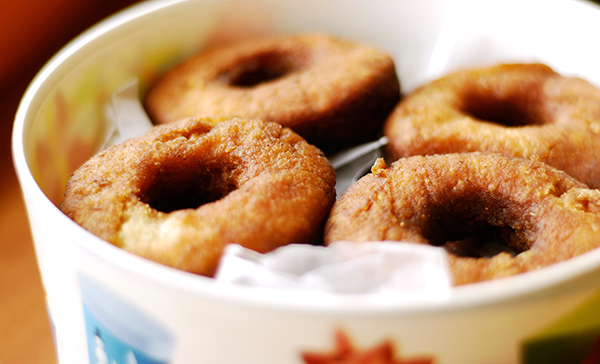 Shortly after creating our pumpkin pie spice blend, our colleague Nadia brought us her wonderful version of home-made doughnuts. If you don't have mace, it's as good with cinnamon or cassia. Makes around 36 doughnuts.
Doughnuts
½ tsp mace, ground
3¾ cup flour
4 tsp baking powder
½ tsp salt
1 cup brown sugar
2 eggs
1 egg yolk
1 cup milk
¼ cup melted butter
Spice syrup
Method
1

Sieve the flour, baking powder, salt, mace and brown sugar.

2

Beat the eggs, yolk and milk, using a fork. Blend with the dry ingredients and melted butter.

3

Transfer to a floured cutting board and knead delicately.

4

Flatten the dough to approximately 3/8 of an inch. Cut out the doughnuts with the help of a doughnut cutter.

5

Place 3 or 4 doughnuts, one at a time, into a hot frying pan or deep fryer until they are golden.

6

Drain and let cool on a bake sheet.

7

Place the ingredients of the syrup along with the spices in a small pan and boil for 5 minutes on high heat.

8

Dip the doughnuts in the syrup.