Spicy Chocolate and Cranberry Yule Log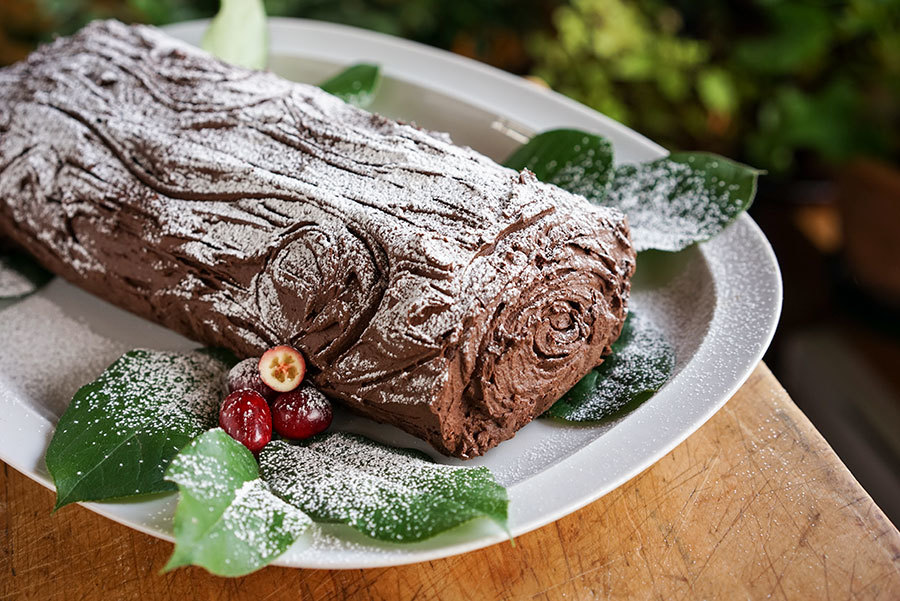 Full of rich chocolate, warming cinnamon fragrance and the acidity of cranberries: This Holiday Log will enchant everyone!  Serves 10 to 12 guests.
Cranberry garnish
3½ cups cranberries (1 X 390g bag)
½ cup sugar
Whipped cream
1 cup 35% whipping cream
2 Tbsp sugar
½ tsp orange extract or Grand-Marnier
Genoise cake
1 cinnamon stick approx. 10 cm
2 cloves, ground
6 large eggs
¾ cup brown sugar
¼ tsp salt
½ cup powdered cacao 
Icing sugar
Icing
1¾ cup dark chocolate
1½ cup 35% cream
1 pinch of salt
Cranberry garnish
1

Mix sugar and cranberries in a casserole and bring to a boil. 

2

Let stew on medium heat for 10 minutes. Allow to cool thoroughly, cover and set aside.
Whipped cream
1

Beat cream and sugar in a very cold bowl until firm peaks are formed.  Incorporate orange extract. Cover and keep refrigerated until assembly.
Genoise cake
1

Pre-heat oven to 375 °F.

2

 Cover an oiled baking sheet with parchment paper.

3

Separate yolks from egg whites. 

4

Beat yolks with brown sugar and salt until thick and pale. 

5

Grind spices.


6

Sift cacao and spices into yolks and sugar and mix well. Set aside. 

7

In another bowl, whisk egg whites until soft peaks are formed.


8

Gradually incorporate whisked egg whites into egg yolk mixture, fold gently using a spatula.


9

Using a spatula, spread the blend evenly on a baking sheet.


10

Cook in the middle of the oven for 18 minutes, then let cool on the sheet.


11

As soon as the génoise is cool enough to handle, carefully unmold, taking care to unstick the edges using a knife blade. Peel off the parchment paper, sprinkle the génoise with icing sugar and place the sprinkled surface on a clean dish towel. Sprinkle the other surface. 

12

While the génoise is still warm, roll using a towel to create its shape. Let rest for one hour in the towel.
Icing
1

Roughly chop chocolate and place in a mixing bowl. 

2

Heat cream and salt, until smokey and begins to boil, pour over chocolate. Let melt without mixing for 2 minutes.


3

Mix well to obtain a homogeneous ganache. Let cool in refrigerator until firm but malleable.

Whisk ganache until creamy and spreadable. Set aside. 
Assembly
1

Unroll the génoise.

2

Carefully leave a space of approximately 1 cm ungarnished at the end of the génoise after spreading an equal layer of cranberry compote, then another of orange infused whipping cream. 


3

Roll génoise into a log shape, place on a serving dish. 

4

Spread icing evenly, then using a fork trace lines on the log to imitate the bark.


5

If desired, decorate with sifted icing sugar, fresh cranberries or meringue mushrooms (see recipe).