Spinach Sautéed with Garlic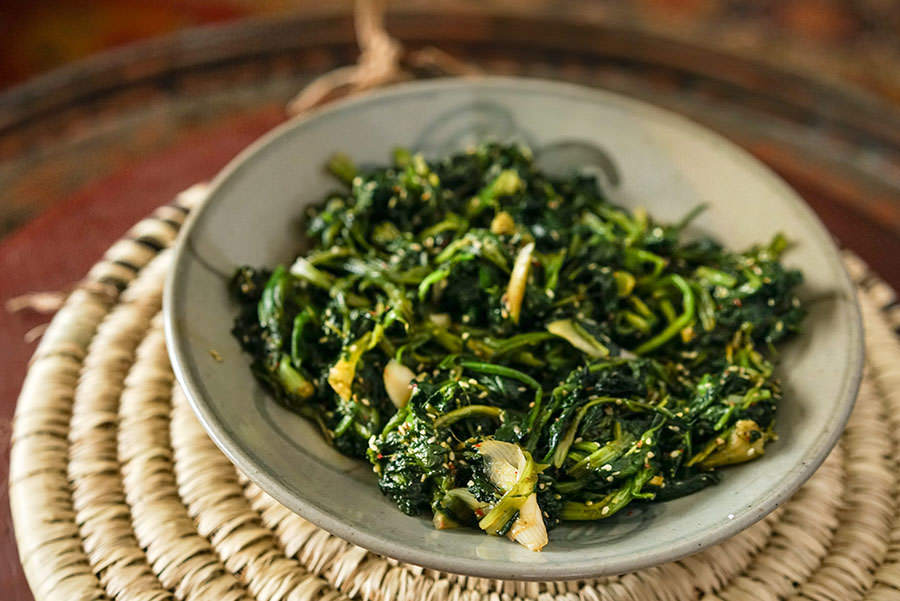 You can cook the spinach ahead of time and cool it in cold water, then remove as much water as possible. Then you only have to stir-fry it long enough to heat it.
Ingredients
2 bunches spinach
1 Tbsp salt
2 duck fat or coconut oil
1 Tbsp chopped ginger
4 scallions, chopped
3 garlic cloves
3 Tbsp sesame seeds
2 Tbsp coconut aminos or 1 Tbsp fish sauce (opt.)
2 tsp sesame oil
Pepper or chile flakes to taste
Method
1

Wash spinach and remove roots if there are any.

2

Fill a wok halfway with water. Add salt and bring to a boil. Cook spinach in water for 2-3 minutes-the time it takes to bring the water back to a boil.

3

Transfer spinach into a colander and let drain for 1 minute. Press with a large spoon to remove as much water as possible.

4

Wipe the wok. Place on medium heat. Add duck fat, ginger, garlic and scallion. Cook for 30 seconds (the time it takes for the scallion to start sizzling). Add sesame and cook, stirring constantly, until they begin to color (5-10 seconds). Add the well-drained spinach and remaining ingredients.

5

Stir well and cook for 30 seconds more. Pour onto a plate and serve.