Squash and saffron risotto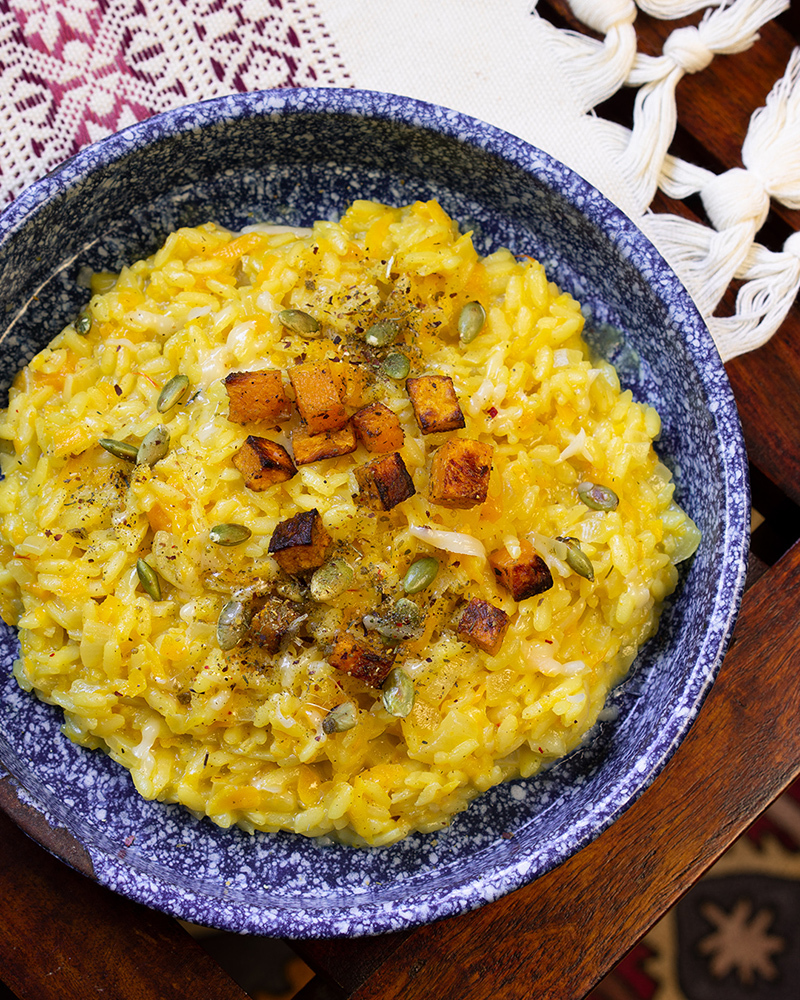 A flavourful, Quebec-centric risotto! Saffron from the Beauce region, combined with our Nordic Spiced Salt is the definitive finishing touch for this fall dish. Can be served as a main or an accompaniment to a roast or stew.
Ingredients
1 cup Butternut squash, diced
1 tsp Nordic Spiced Salt
1 Tbsp olive oil
1/8 gr. Beauce saffron or other saffron
6 cups vegetable or chicken stock
5 Tbsp butter
1 large onion
1 ¼ cup risotto rice
1 ½ Tbsp Nordic Spiced Salt
½ cup white wine
1 cup Butternut squash, grated
4 Tbsp 35% cream
2 Tbsp cold butter
¼ lb old cheddar, grated
Pumpkin seeds, roasted (opt.)
Method
1

Heat the oven to 350 °F. Mix the diced squash in a bowl with one teaspoon of Nordic Spiced Salt and olive oil. Place on a baking sheet and cook for 10 to 20 minutes, until the squash is roasted and golden.

2

Infuse the saffron in a small bowl with ¼ cup of boiling water. Set aside.

3

Heat the stock in a pan and simmer on low heat.

4

Finely chop the onion. Heat a large pan on medium heat with 5 Tbsp butter. Add the onion once the butter begins to foam.

5

Cook, stirring constantly then incorporate the rice once the onion becomes golden.

6

Add the saffron infusion, white wine and Nordic Spiced Salt.

7

Mix well and add 2 ladles of stock once the wine is completely absorbed. From this moment the cooking time should be 20 to 22 minutes. If needed, reduce the heat. The rice should boil gently.

8

Incorporate the grated squash and continue cooking, stirring constantly.

9

Continue regularly adding stock, 2 ladles at a time, in order to prevent the liquid from completely drying out. Be careful not to « drown » the risotto and to stir constantly during the process.

10

After 20 minutes of effort, the rice should be al dente, incorporate the cream and the cold pieces of butter to create a creamy consistency. If necessary, add a few spoonsful of stock and cook for another minute or so.

11

Remove the pan from the heat and mix in the grated cheese.

12

Serve immediately, garnish with the roasted, diced squash and pumpkin seeds.