Squash Chokha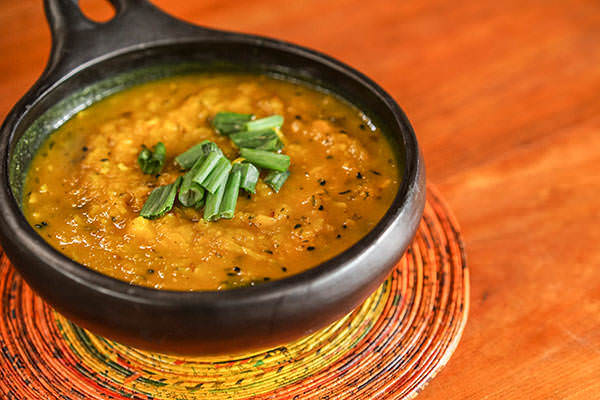 An extremely simple squash recipe; sweet and spicy. Ideal for lunch or as a side dish if the meal is somewhat more elaborate.
Ingredients
1 Tbsp oil (canola, sunflower, or olive)
1 tsp cumin seeds
1 tsp nigella (optional)
hot pepper to taste
6 green onions, thinly sliced
2 cloves garlic, chopped
1 branch fresh thyme or a pinch dried thyme
1 butternut or other squash, peeled and cubed
2 to 3 tsp ground curry
salt
Method
1

In a large frying pan, heat oil over medium high heat until very hot. Add cumin, nigella, and hot pepper. Heat through, about 30 seconds.

2

Add green onions, garlic, bay leaf, and thyme. Cook two minutes.

3

Add squash cubes, curry, and one small glass water. Salt and mix well. Cover and cook over low heat 30 to 40 minutes, or until squash is cooked. Add more water during cooking if necessary.

4

Remove peppers, bay leaf, and branch of thyme. Mash squash with potato masher to make a rough purée.

5

Serve with hot nan bread to accompany roast lamb or chicken, or simply on a bed of rice.
Variation: Dilute squash purée with chicken stock to make a soup. Garnish with yoghurt and fresh mint or coriander.