Staff clam linguine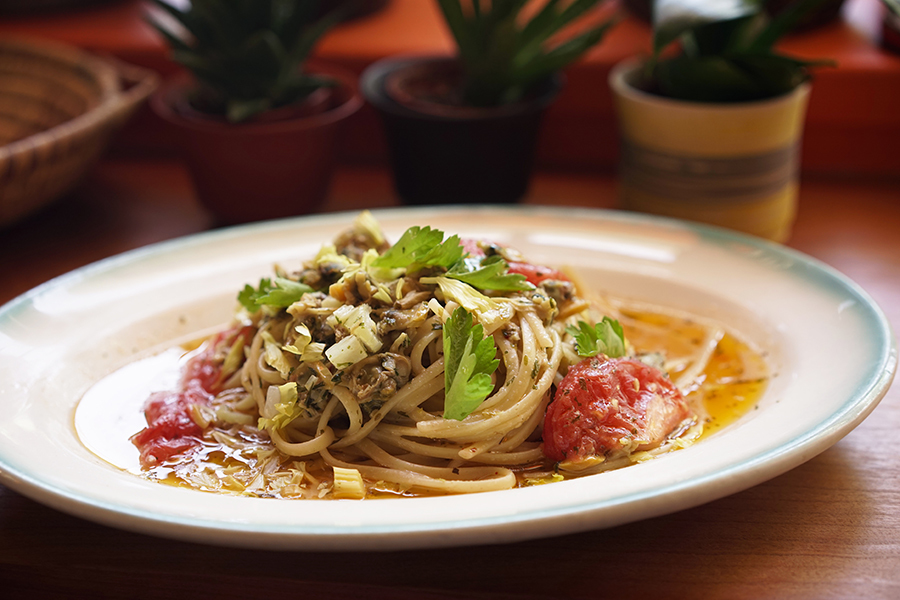 This recipe is a twist on the favorite Italian classic, perfect for the days when prep time is limited.
Ingredients
2 medium tomatoes
A few celery branches
500g linguine
2 cans clams (5½ oz each)
¾ cup olive oil
6 garlic cloves, thinly sliced
1 cup white wine OR white Vermouth
3 Tbsp Pasta ''staff'' spice blend
1 Tbsp light soy sauce (opt.)
Juice of 1 lemon
Parsley to garnish
Method
1

Boil 16 cups of water in a large pot with 2 Tbsp salt.

2

Soak the tomatoes for 30 seconds in the boiling water. Remove using a slotted spoon and cool under cold water, then peel the tomatoes. Cut in quarters.

3

Sliver the celery and set aside the leaves for garnishing.

4

Cook the linguine in the pot of boiling water.

5

Strain the clams and set aside the juice.

6

Meanwhile, heat a pan that's large enough to accommodate the pasta, on medium. Pour in the olive oil and sliced garlic. Simmer slowly while stirring constantly.

7

Once golden, add slivered celery and cook for another minute. Raise the heat to maximum and add wine, spices, soy sauce and clam juice. Cook at a rolling boil to emulsify the oil.

8

Drain the pasta when 3 more minutes of cooking is required. Set aside 2 cups of the pasta water.

9

Add the tomato quarters and the clams to the pan. Cook for 30 seconds, add the drained pasta and cook for another 3 minutes, mixing gently. There should be some leftover sauce in the pan, add a little bit of pasta cooking water if needed. Incorporate the lemon juice and a generous stream of olive oil. Serve immediately, garnish with parsley and celery leaves.