Bison Steak au Poivre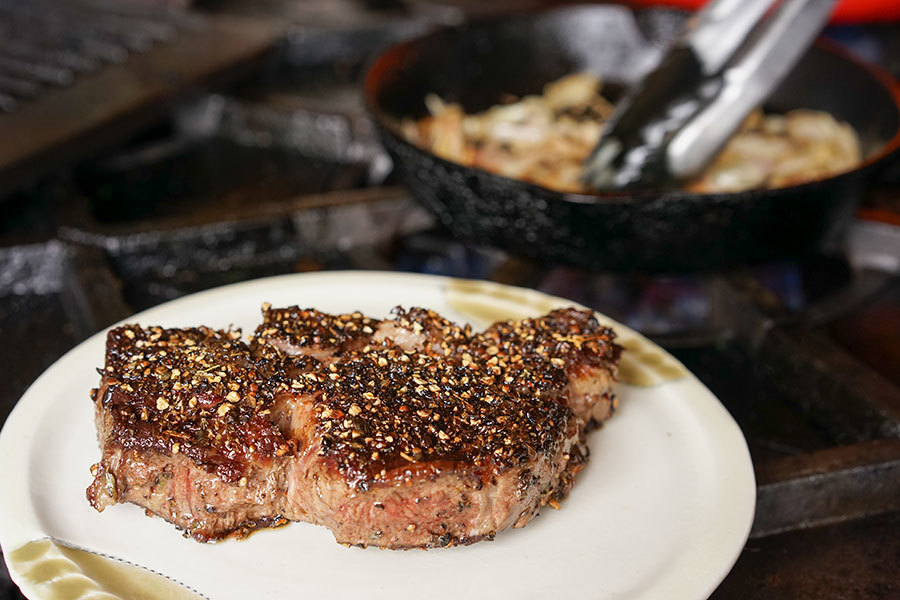 If you don't have bison, this recipe is still great with beef steaks. If you want, deglaze the pan with stock, wine, or brandy.
Ingredients
4 beef or bison steaks, about ¾-inch thick
4 Tbsp black pepper, cracked
1 tsp thyme
Salt to taste
1 Tbsp clarified butter or coconut oil
4 scallions, chopped
1 splash olive oil
Method
1

Pat steaks dry with a paper towel. Crack pepper in a mortar. Sprinkle the pepper and thyme evenly on lamb. Tap gently with your hands so they stick well. Salt and pepper; let stand 15 minutes before cooking.

2

Heat a large pan on medium. Add clarified butter, then the steaks. Pan-fry on one side, about 2 minutes for a rarer steak. Flip and cook for 2 more minutes.

3

Place steaks on a clean plate. Put shallots in a bowl with a spoonful of clarified butter if needed. Stir while scraping the plate to unstick the cracked pepper. After 1 or 2 minutes, when the shallots are cooked, pour ¼ cup water into the pan and stir for 15 seconds until it is evaporated. Pour shallots on the steaks and splash some olive oil on top.